Win a Dell laptop and Prometheus DVDs!
12:00 PM Wednesday Oct 24, 2012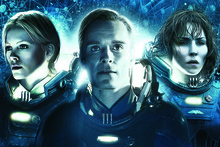 We have copies of Prometheus to give away, and one Dell Inspiron 14Z Ultrabook. Photo / Supplied
Uncover the grand mythology of the universe and win yourself a Dell laptop and copies of Prometheus on DVD!
With Prometheus, Ridley Scott - the famed director of Alien and Blade Runner - has returned to the science-fiction genre he helped define.
In Prometheus, a team of scientists and explorers journey to the darkest corners of the universe searching for the origins of mankind.
But what they find could threaten all life on Earth, leading to a terrifying battle to save the future of the human race. Prometheus is out now on Blu-ray and DVD.
Sorry, this promotion is now closed.
To celebrate the release of Prometheus, we're giving you the chance to win a Dell Inspiron 14Z Ultrabook worth $1099. Inspiron 1Z Ultrabook. It's easy to pick up, hard to put down.
We also have four copies of Prometheus on DVD to give away to runners-up. Prometheus is rated R16.
To enter the draw to win this prize, you'll need to watch the Prometheus DVD trailer here, answer a simple question and enter your details below.

© 2012 Twentieth Century Fox Film Corporation, PM/IN Fund, LLC and Dune Entertainment III LLC. All Right Reserved.
© 2012 Twentieth Century Fox Home Entertainment LLC. All Right Reserved. TWENTIETH CENTURY FOX, FOX and associated logos are trademarks of Twentieth Century Fox Film Corporation and its related entities.
Copyright ©2016, NZME. Publishing Limited