Court date for asset sales
5:30 AM Wednesday Oct 24, 2012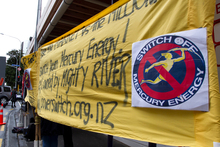 Despite protests, Prime Minister John Key still believes the partial sale of Mighty River Power could go ahead between March and June next year. Photo / Brett Phibbs
The Maori Council yesterday won the right to take its asset sales fight to the High Court but Crown lawyers say questions around the ownership of water should not be considered at the hearing next month.
Prime Minister John Key said that while he expected the case to go all the way to the Supreme Court, he was confident the partial sale of Mighty River Power could still take place between March and June next year.
The Maori Council and Waikato hapu Pouakani were yesterday granted urgent court time just hours before the Cabinet was due to approve an order-in-council that would have altered Mighty River Power's legal structure, allowing it to be partially privatised next year.
Justice Ronald Young set a date of November 26 for the Maori Council's case to be heard in full and after the Cabinet was advised of that, it decided against passing the order-in-council.
Maori Council spokeswoman Rahui Katene said the Cabinet's decision not to proceed with the order-in-council was a partial victory.
"[The Government] are holding off on their timetable which they had set down very strongly but it's not yet a full victory - we haven't had a chance to sit down and talk with the Crown."
But Mr Key said it was "hardly a victory when you get the judge to agree to hear your case".
The Government's announcement last week that it would proceed with the order-in-council was always intended to draw out legal challenges from the Maori Council and others, and as such "it's done its job".
Victory for the Maori Council was down to whether they could win in court, "and the Government's view is that we've got a very, very strong position".
Mr Key said the Maori Council had been attempting to claim ownership of water when his Government believed no one owned water.
Crown lawyer David Goddard, QC, yesterday told the High Court the Government's expectation was that at next month's hearing, which is expected to last three or four days, "we are not going to attempt to solve on November 26 all the questions relating to the ownership of water in New Zealand".
The council is arguing that the Crown has failed to implement mechanisms that will protect claimed Maori interests in freshwater and geothermal resources. It also says the Crown's actions are inconsistent with the Treaty of Waitangi as required under Section 9 of the State Owned Enterprises Act and says the Crown's "defective consultation" makes the sale unlawful.
Both the Government and the Maori Council yesterday indicated they were prepared to fight the case all the way to the Supreme Court.
However, Mr Key still believed it was possible to complete the court process in time for Mighty River to be partially privatised some time between March and June next year.
Copyright ©2015, APN New Zealand Limited