Sideswipe Extra: Oct. 16: Ladies' choice
5:30 AM Tuesday Oct 16, 2012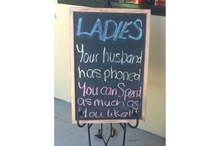 Gender stereotypes create snorts and giggles outside a shop in Blenheim. Photo / Supplied
Cry for organ help
The premise for a 2007 Dutch reality show (De Grote Donorshow) was that three patients in need of a kidney compete for the organs of a terminally ill woman; the dying woman was to pick the winner, with input from viewers. The show drew huge criticism before it aired and Dutch health officials condemned it and unsuccessfully tried to block it going to air. But there was a twist. Near the end of the programme, presenters revealed that the show was a hoax to draw attention to the Netherlands' shortage of organ donors. The "terminally ill" woman was a healthy actress, and while the three contestants really did need kidneys, they were in on the stunt to help increase awareness. It may have been crass but the stunt worked: A day after the airing, 43,000 viewers requested forms to become organ donors. (Via Mental Floss's The 25 Most Powerful TV Shows of the Last 25 Years)
Picture-perfect peacock
Zoo officials are under investigation in China after keepers said they were forced to fix a mechanical tail on to a peacock. Keepers at the Beijing Wild Animal Park were ordered to attach the fake tail, which is fixed to a motor that spreads the feathers into a magnificent display. "Visitors are happy to pay to pose in front of a peacock spreading his tail but they only do it in spring when they're breeding," explained one. "The bird is obviously uncomfortable, but we'd be sacked if we said no."
Bank-friendly names revealed
Having the name Brian might not seem like the most promising start in life but the name has the best "credit rating" in Britain, according to a report from the comparison website confused.com, which looked at the records of tens of thousands of people to work out the names and addresses of those with the best credit record. It found people called Brian, Alan, Ian, Peter and Robert (and for the ladies, Helen, Susan, Julie, Elizabeth and Joanne) are the least likely to have a black spot on their credit history, such as being made bankrupt or missing their mortgage payment. This is because credit histories tend to be better among older people, who were brought up to avoid debt, to save and to spend only what they can afford, and worse among the young. The worst names to have are Daniel, Lee, Matthew, Steven and Christopher for men, and Lisa, Victoria, Emma, Nicola and Claire. (Source: The Daily Mail)
Protecting staff from themselves
Mike says his large workplace has one self-appointed health and safety person, and she doesn't have any formal qualifications. "She has removed the Panadol from the first-aid box in case any of the staff take too many. We also have to fill out a report if we use any Band-Aids. But the guys have a supply of privately owned, secretly stashed, non-regulation plasters in a drawer."
Picture this: John Key's advisers weren't around to advise him how to behave while being photographed at the New Zealand Young Nats Ball on Saturday...or as Twitter user @someofmybest said: "Gross that the dad in all of these pictures is actually our country's Prime Minister."
DIY: Why pay an expensive surgeon to perform a laparoscopic gastric bypass on you, when you could buy everything you need online & do it yourself?
Arty: New Zealand photographer John Crawford posted this striking series of images - called Aerial Nudes, which he shot in the 80s around Taranaki, on his website. Crawford tells the Independent that most people don't get much opportunity to fly around looking straight down and that although the photographs are personal (the subject is his former wife) they suggest that humans are so tiny and insignificant, compared to the size of the land they live on. (Ever-so-slightly NSFW depending on your eyesight)
Video: Gabriel's big sister Delilah gives him a stern talking to...
(The parents of Gabriel and Delilah have now signed up with video marketing company Viral Spiral, which helps amateur home-movie makers make a profit from their clips. A huge viral success, Charlie Bit My Finger, also represented by Viral Spiral, has earned Charlie's parents about £100,000 from marketing deals.)
Copyright ©2015, NZME. Publishing Limited