London: Graveyards capture Victorian era
By Christoph Driessen
4:00 PM Friday Oct 12, 2012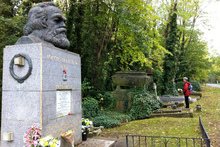 Highgate Cemetery's most famous "resident", Karl Marx. Photo / Creative Commons image by Flickr user Feeling My Age
"Are you looking for Karl Marx?'' asks an old woman as she tends to a grave at Highgate Cemetery - a popular tourist destination where many visitors lose orientation among the tombstones and crypts.
"Just keep going straight and then take a left,'' she says.
Highgate Cemetery, which had its first burial in 1839 and where many luminaries of the time are interred, is perhaps the most fascinating of London's graveyards and is certainly the most spectacular.
Called "The Magnificent Seven,'' they date from the first half of the 19th century as the population of what was then Europe's largest metropole doubled to more than two million inhabitants.
Very little new burial space had been put aside to deal with the growing population and by the early 1830s city authorities were stating that for public health reasons something had to be done.
Within nine years, seven new cemeteries came into existence: Kensal Green, Norwood, Highgate, Nunhead, Brompton, Abney Park and Tower Hamlets.
To this day, these resting places reflect Victorian society. For example, Highgate was divided into an eastern section for the poor while the western part was reserved for the rich. Marx was interred in the eastern section in 1883 although he was originally buried 150 metres away from where his bronze bust with the inscription "Workers of all lands, unite!'' now stands.
Most of Highgate's attractions are to be found in the western part of the cemetery, the centre point of which is Egyptian Avenue, an unusual structure made of sixteen vaults on either side of a broad passageway, entered via a great arch. These vaults were each purchased by individual families for eternity, meaning that once all the plots were sold the cemetery would cease to make any money.
Over time, the relatives of the dead also passed away and many of the graves fell into disrepair until the "Friends of Highgate Cemetery'' took control of the graveyard in 1981.
Since that time, the group says that restoration and conservation work has been carried out on the Egyptian Avenue, the Circle of Lebanon and the Terrace Catacombs which, along with over 70 other monuments, have now been listed as English heritage sites.
The western section of Highgate has once again started permitting burials. It is here where Kremlin critic Alexander Litvinenko, who died in 2006 while in exile in London, is buried. British prosecutors believe Litvinenko was poisoned with the radioactive substance polonium-210.
The melancholy beauty of Highgate is certainly the highlight of any cemetery visit in London but another graveyard worth the trip is Brompton Cemetery which is home to 200,000 graves and where a regiment of angels guards the dead.
The atmosphere at the Golders Green crematorium is a favoured final resting place for London's free thinkers and is accordingly slightly less morbid. Urns or small plaques remember famous names such as writer Enid Blyton or drummer Keith Moon from rock band The Who.
The ashes of psychoanalyst Sigmund Freud are also to be found here. They were, in line with his wishes, deposited in a Grecian vase from his antique collection.
- AAP
By Christoph Driessen
Copyright ©2016, NZME. Publishing Limited