Families kick up storm over Jandals
5:30 AM Thursday Oct 4, 2012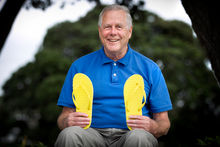 Philip Yock is comfortable about the Jandal's origins. Photo / Natalie Slade
Two families are locked in a dispute over who invented the name Jandal, 55 years to the day after the national footwear was trademarked.
Many believe the late Morris Yock, an Auckland man, coined the term and brought the popular summer footwear to New Zealand.
But the children of English-raised businessman John Cowie - Mr Yock's friend who started manufacturing a plastic version of the Japanese wooden sandals in the late 1940s in Hong Kong - say the idea was his.
The argument started in 2007 when Surf Life Saving held its first National Jandal Day as a fundraiser.
Taranaki woman Mary Deken, Mr Cowie's daughter, said her father both invented the simple rubber footwear and the name Jandal.
Mrs Deken stands by her claim.
"He was making them over in Hong Kong ... and one day when he was sitting around in his office with some Japanese businessmen, they brainstormed the name 'jandal'," she told the Herald.
"The term was a mixture of 'Japanese and sandal'."
Mrs Deken said there were no hard feelings over the confusion.
"I just want the record to be set straight, it was my Dad that invented them and came up with the name."
But the Yocks are sticking by their story - they say Mr Yock coined the name, though the inspiration of the Japanese sandal was the same.
According to their family history, Mr Yock was an importer and distributor who frequently visited Asia. In the 1950s, he noticed Americans wearing traditional wooden Japanese sandals made of synthetic rubber.
He knew the idea would take off in New Zealand, but import regulations stopped him.
So after a visit to Hong Kong, Morris Yock's son, Anthony Yock, began making Jandals in a Te Papapa garage with his younger brother Philip.
They "took off like hot cakes" and on October 4, 1957, Morris Yock trademarked the Jandal.
"While he didn't come up with the idea, he certainly was the one who brought them to New Zealand and came up with the name," said Philip Yock, an associate professor of astrophysics at Auckland University.
But whether it was Mr Yock or Mr Cowie who first came up with the name Jandal, it's since become ingrained in New Zealand culture.
But because Jandal is a trademark of Mr Yock's Skellerup company - one of the earliest manufacturers of the modern design - it is rarely used outside New Zealand, most other countries choosing to call them "flip-flops" or - in Australia - thongs.
Version 1
John Cowie was making rubber versions of Japanese wooden sandals in Hong Kong in the late 1940s. He called them "Jandals" - an amalgam of the words Japanese and sandal - after a discussion with Japanese associates.
Version 2
Morris Yock, while on trips to Asia in the 1950s, noticed Americans wearing rubber sandals. His sons, Anthony and Philip, began making them in Te Papapa, Auckland, and the family trademarked the word "Jandal" in 1957.
Copyright ©2016, NZME. Publishing Limited