Z Energy station sales to fuel market
5:30 AM Saturday Sep 29, 2012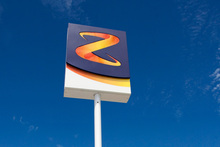 The nine stations for sale are in Tauranga, Rotorua, Ngatea, Paeroa, Te Aroha, Hawera and Opotiki, Blenheim and Dunedin. Photo / Kel Martin
Nine Z Energy service station properties, offering net annual rental incomes ranging from $41,000 to $179,000 on initial lease terms of three to 12 years, are being marketed for sale in seven North Island and two South Island locations.
The service stations are in Tauranga, Rotorua, Ngatea, Paeroa, Te Aroha, Hawera and Opotiki, Blenheim and Dunedin.
They will all be leased back by Z and will remain in the company's nationwide network of service stations under new leases.
The operations of the sites and associated businesses are not for sale. The properties are for sale by deadline private treaty closing on Wednesday, October 31 unless sold before the deadline date.
Peter Herdson and Jason Seymour of Colliers International, who are co-ordinating the national sale process, say the sales offer affordable, income-generating commercial property holdings and follow the successful sale and leaseback of eight Z service station properties this year.
Gail Calder, Z Energy's asset manager, says the freehold interest in the properties is being sold to release capital for reinvestment in the company's core business.
"It's an opportunity for us to direct capital into building new sites, while at the same time keeping these stations operating under the Z brand as part of our network."
Herdson says the properties present an opportunity for investors to diversify into commercial property by investing in one or more smaller properties backed by a national brand-name tenant.
"With interest rates at low levels, we believe there are many people around New Zealand looking for solid investments which could generate a higher yield than that available on bank deposits," he says.
"With Z committed to these sites and recently rebranding them as part of their nationwide brand roll-out, these properties provide income security for investors and offer income growth from regular fixed and market rent reviews."
Owned 50/50 by Infratil and the New Zealand Superannuation Fund, Z Energy operates a network of over 300 service stations and truck stops around the country, along with pipelines, fuel terminals and a share in the Marsden Point oil refinery.
The company also distributes around a third of New Zealand's fuel and has one of the highest overall market share of any fuel company operating in New Zealand.
This year, Z completed its nationwide brand roll-out in one of the largest rebranding programmes ever undertaken in New Zealand, with all 300 former Shell stations and truck stops now in Z Energy colours.
Calder says the company also paid $18 million in dividends into the New Zealand Superannuation Fund in the last financial year, and recently completed its third bond issue, which was a huge success.
Seymour says he expects to receive inquiries from a variety of buyers, including individual investors, family trusts and property investment syndicates looking to purchase one property or several.
"Taken individually, or as a mini-portfolio of two or more, the properties offer simple investments in a popular asset class.
"There is something here for a range of buyers, so we expect a lot of interest from investors who are attracted to the income-generating nature of the properties as well as the chance to invest in the future of a growing Kiwi company."
Seymour says the properties, with their single corporate tenant, constitute easy-to-manage investments - a factor that will be a further draw for individuals and family trusts.
"This property portfolio is a very attractive, passive, income-generating investment opportunity."
He says the rental growth built into all the leases will be particularly attractive to many investors.
All properties offer 2.5 per cent fixed annual growth for some years, combined with market rent reviews upon renewal and/or part way through the lease term.
The geographical spread provided by the properties makes for an ideal ready-made diversified investment for buyers considering purchasing more than one service station, says Seymour.
"The properties are mostly corner sites in well-located towns and cities around New Zealand.
"They occupy high-profile sites carefully chosen for their volumes of passing traffic and proximity to arterial roads."
Z Ngatea, at 75-77 Orchard Rd, is on busy State Highway 2 which passes through the town. The 3033 sq m property will generate net annual rental income of $124,000 on a new six year lease with six further rights of renewal of six years each.
Z Te Aroha is a 756 sq m property at 11 Stanley Ave, on State Highway 26 on the southwestern edge of the Waikato town. Net annual rental income will be $41,000, with the same lease term and rights of renewal as Z Ngatea.
Up the road in Paeroa, 6 Belmont Rd is a 759 sq m property on State Highway 2 in the centre of town. Z will have an eight-year lease with eight rights of renewal of four years each and will pay $65,000 in net annual rent.
In Tauranga, Z 15th Ave is well-known among locals for the marlin sculpture which guards the service station entrance. The 2015 sq m property at 18-22 15th Ave, in central Tauranga, will generate net annual rent of $119,000 on a new eight-year lease, with eight further rights of renewal of four years each.
Z Te Ngae is a 1593 sq m property at 556 Te Ngae Rd, Rotorua, on State Highway 30 northeast of the town. Z will have a three-year lease with the right to renew for six further six-year terms, paying an initial net annual rent of $82,000.
Z Opotiki, at 89 Church St in the centre of town, covers 2117 sq m of land area. The property will generate $48,000 in net annual rental income on a 12-year lease, with six further rights of renewal of six years each.
In Taranaki, Z Hawera occupies a central, 2024sq m site on the corner of South Rd and Princes St. Net annual rental income will be $179,000 on a 12-year lease, with six further rights of renewal of six years each.
Across Cook Strait in Blenheim, Z Redwood, at 225A Scott St in the southern part of Blenheim, covers 1965 sq m of land area. The property will generate net annual rental income of $119,000 on an eight-year lease with four rights of renewal of eight years each.
Z Valley in Dunedin is in a suburban location at 248 Kaikorai Valley Rd.. The 3586sq m property will generate $152,000 in net annual rent, with Z holding an eight-year lease with the right to renew for four further terms of eight years each.
Copyright ©2015, NZME. Publishing Limited