Inventors tackling wider world
5:30 AM Thursday Sep 27, 2012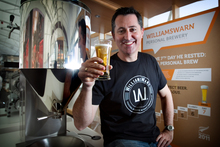 Ian Williams has 500 people on the waiting list for the next generation of his personal brewing machine. Photo / Natalie Slade
WilliamsWarn
Master brewer Ian Williams has 500 people on the waiting list for the next generation of his $6500 personal brewing machine.
The Auckland-based entrepreneur sold all 70 of the first manufacturing run of his WilliamsWarn personal breweries and hopes the new and improved units will be on the market by Christmas.
The invention claims to take "all the errors" out of home-brewing and is being made in Hawkes Bay.
In additional to physical improvements for the new version of the 23-litre brewery, WilliamsWarn has also developed a bottle-filling device for the machine.
Williams said the company had attracted five local investors since its appearance at the innovation showcase.
"What we wanted the investment for was to build this new machine to focus on the [United] States, that's where we think we're going to be doing 200 a month after a while," he said.
Q-Sub
Q-Sub inventor Hugh Fulton says his creation remains a "work in progress".
The two-man recreational submarine, designed to dive to depths of up to 130 metres, is awaiting electrical technology, Papakura-based Fulton says.
"The electronic programming is a bit of an issue - it's taking an awful lot of time."
The Q-Sub was unveiled at Auckland's New Zealand Boat Show in May last year, before featuring at the Cloud for a couple of days during the innovation showcase.
Fulton said the showcase had not resulted in a lot of interest from potential buyers.
"The darling of the show was the [Martin] Jetpack," he said.
Fulton said the submarine, which will have a US$1.5 million ($1.8 million) price tag, would be targeted at superyacht owners and police departments - where it could be used for search and rescue - and scientists.
He didn't put a timeframe on how long it might take to get the Q-Sub to market.
Martin Jetpack
Martin Jetpack founder Glenn Martin declined to comment, saying the company will release updates within the next few weeks and he does not wish to speak before then.
Earlier this year the Christchurch-based firm was reportedly looking for 100 additional investors, with the aim of raising $2.4 million to get the world's first commercial jetpack to market. Despite its name, the Martin Jetpack is actually propeller-powered.
Outsmart
Auckland's Outsmart, which has created the online environment SmallWorlds where users create personal virtual spaces and share experiences with other players, entered the booming Brazilian market this year.
Co-founder Mitch Olson said that after entering Latin America's largest nation in May the company signed up one million Brazilian users in the space of 10 weeks.
"[Brazil] is the first stage of our geographic expansion into non English-speaking territories," he said.
"The reason we chose Brazil is because it's the most social country in the world ... that makes it a great fit for a social, multi-player online game like SmallWorlds."
Olson said entering Brazil required the virtual online world to function in Portuguese.
A virtual Copacabana Beach is also under development and SmallWorlds has hired three New Zealand-based Brazilians to support the firm's expansion into that market.
Olson said the firm would soon begin targeting Spanish-speaking markets in South America, as well as European countries including France, Germany and Turkey.
"We're looking at rolling out another two or three [new] language territories through 2013."
SmallWorlds, whose backers include Disney's venture capital arm and Trade Me founder Sam Morgan, currently has 10 million users around the globe.
Im-Able
Getting the big tick from the United States Food and Drug Administration is often seen as the holy grail for medical technology developers.
Wellington's Im-Able gained FDA approval for its Able X device, used by stroke victims to aid their recovery, in July.
Users make repetitive movements with the device while playing video games, which re-teach their brains to work in conjunction with their bodies after a stroke or brain injury.
Chief executive Sunil Vather said the FDA approval gave the company clearance to sell its products in the US and sales should begin there by the end of next month.
He said Im-Able had sold more than 250 of the devices, which retail for $1000, since they hit the market about a year ago.
Ice AV
Ice AV founder Kevin Andreassend says the company has made several software, product and design developments over the past year.
The Albany-based firm's HoloDesk technology allows DJs to perform using a holographic mixing desk that is manipulated by touch.
Andreassend said the company had improved the HoloDesk's capabilities, usability and design.
"Physically it doesn't look any different, but it's now more accurate, sensitive and it performs better."
Andreassend said Ice AV would spend the next month demonstrating the HoloDesk across New Zealand.
He said the company had grown "exponentially" over the past year.
Other developments included supplying the South African Navy with five-metre simulation screens for use in submarines.
Rocket Lab
Rocket Lab founder Peter Beck says his company has had a very busy year.
He said the Auckland-based firm, which develops technology for the space and defence industries, was developing rocket motors for up to four American agencies.
Beck said the innovation showcase was a good chance to show New Zealand what the company was up to.
"For us it was not about business development or marketing, but more to feel good."
Fingertapps
Within the past month touch-screen app developer Fingertapps "soft launched" its new computer game, Kung Pow Kevin, at the Intel Developer Forum.
Chief executive David Berbner said the firm would also release a new app called Fingertapps Organiser with Sony.
The app will be launched with Windows 8 and enables users to manage activities, events and schedules.
It will be available before the end of the year.
Copyright ©2015, NZME. Publishing Limited