NRL: Who next through the Warriors' revolving door?
3:56 PM Wednesday Sep 26, 2012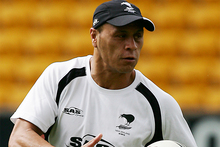 Former Kiwis international David Kidwell has emerged as a front-runner for the job after Stephen Kearney and Tim Sheens are reported to have both lost interest in the role. Photo / Getty Images.
As speculation mounts about who is, and who isn't interested in the coaching role at the Warriors next season, yet another name has been thrown into the mix.
Former Kiwis international David Kidwell has emerged as a front-runner for the job after Stephen Kearney and Tim Sheens are reported to have both lost interest in the role.
Kidwell is reported to have had two interviews with the Warriors, and is now the book-makers favourite to take over the coaching role that has been left vacant since the club sacked Brian McClennan in mid-August.
The 35-year old Storm assistant coach earned 25 caps for the Kiwis and was a member of the 2008 World Cup winning squad, and will be banking on his leadership and short term assistant coaching success over any experience in the head-coaching field.
The Warriors have refused to comment on any of the speculation in the five-week coach hunt which has seen a wide array of coaches linked with the top job. The early talks of chasing Storm coach Craig Bellamy appear to have gone cold and now looks unlikely, though nothing could be announced until after the Grand Final anyway with the Storm playing for the title on Sunday.
Meanwhile, the Sydney Morning Herald reported today that Sheens was not keen on the move to Auckland and that Kiwis coach Kearney had withdrawn his name from contention.
However the effective sacking of the Tigers boss yesterday has possibly created an easier transition for Sheens - with many still hoping he will throw his hat in the ring for the job.
"They should go and swoop him up immediately," said former Kiwis international Dean Lonergan.
"Sheens is far and away the best available. He's always wanted to coach here and he's coached great teams before like the Canberra Raiders in the 90's when they had all their great players. It's all very well having the great talent but you have to be able to harness it all and Sheens can do that.
"Give him the reigns; give him the freedom to build the dream team that he wants and we'll become the behemoth that Watson and Glenn promised this club would be. If they don't, I'll be shrugging my shoulders and saying you missed a big opportunity.
Newcastle Knights second rower Willie Mason also believes Sheens is the right man for the job.
"He's very structured and I think that's what the Warriors need," Mason said.
"Sheens would come here, fix a lot of things up and the Warriors will be a force to be reckoned with again."
The Warriors coaching contenders:
David Kidwell - Storm assistant, bookies favourite, 35-years old, untried at NRL level, well respected within Kiwi camp
Matt Parish - Manly assistant, strong playing career, untried at NRL level.
Tim Sheens - Speculation mounts that he is not keen on the job, move would relieve Tigers financial burden of paying out his contract, former Kangaroos coach, has won four Premierships.
Justin Morgan - Helped take Warriors to grand final in 2002 as a player, Super League coaching experience, 37-years old.
Stephen Kearney - Has pulled out of the race according to Sydney Morning Herald.
Brian Smith - Sacked as Sydney Roosters coach at end of 2012 season, 58-years old, very experienced.
Tony Iro - Current assistant coach at the club. Applied for head coaching role when Cleary signed with Panthers. Worked with the young squad members through Junior Warriors.
-nzherald.co.nz
Copyright ©2016, NZME. Publishing Limited