Is Gerry Brownlee right in his criticism of some quake-hit Chch residents?
10:52 AM Wednesday Sep 12, 2012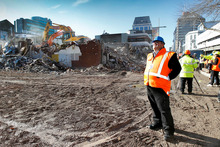 Earthquake Recovery Minister Gerry Brownlee watches demolition work on earthquake damaged buildings in Cashel Mall in Christchurch. Photo / Martin Hunter
Gerry Brownlee has reportedly rejected criticisms from quake-hit Christchurch residents by calling them moaners who have time to "buggerise around on Facebook all day".
The Earthquake Recovery Minister is reported as saying some residents in green-blue, or technical category 3, zones had lost sight of the enormity of the Christchurch earthquake disaster.
He was responding to the results of an online survey of 689 green-blue zone property owners which strongly criticised CERA, insurance companies, Christchurch City Council and the Earthquake Commission.
The surveyed residents, whose houses have experienced liquefaction damage and may need repairs to their foundations, were "carping and moaning", Mr Brownlee reportedly said.
Is Gerry Brownlee right in his criticism of some quake-hit Chch residents? Here is the latest selection of Your Views:
Copyright ©2015, NZME. Publishing Limited