All Blacks: Free-wheeling
5:30 AM Sunday Sep 9, 2012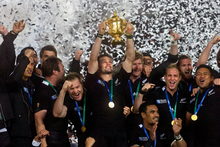 Relief was the dominant emotion as the final whistle sounded to end the World Cup Final. Photo / Andrew Warner
It's not that the current All Blacks are free of expectation but they have at least removed an element of burdensome tension that lived with them for much of last year.
The All Blacks of 2012, maybe without being overly conscious of it, are a side that have been set free mentally by winning the World Cup last year. That desire to make amends, to win the World Cup and end 24 years of waiting, began to dominate at times last year.
The failure of 2007 in particular and the longer history of not winning since 1987 played a heavy background role. That burden of history sat on their shoulders this time last year and became inhibitive by the final against France both in terms of how the All Blacks played and in determining the team's mindset.
Looking back now, many of the players and coaches say they didn't realise how intensely focused they had been until it was all over. The overwhelming emotion when referee Craig Joubert blew that final whistle on October 23 was relief rather than joy. Without anyone realising, winning the World Cup had become more of a chore than anything else. It was something the players felt they had to do; a box that had to be ticked before they and everyone else could move on.
"I think when you go back to that final whistle - there was a huge amount of relief," says All Black coach Steve Hansen.
"That would suggest that yeah, the monkey is off the back and you are not burdened by thinking about 'we have to win it in four years' time'. "You enjoy the moment and now we are a new team and we are striving to do new things. So I think subconsciously, it has alleviated some of that 24-year history."
It is apparent there is a different vibe emanating from the All Blacks this year. The desire to win, to play well and to enhance the legacy are all there-as fiercely, if not more so, than before.
But the slightly negative, tense edge of knowing they had to win the World Cup and that is the major difference between the All Blacks now and where they were a year ago
today.
The significance of that is impossible to overstate. Grant Fox, now an All Blacks selector, has no doubt that victory last year has thrust this side into the best mental space they
have been in since 1988. Fox was also a key member of the team that last won theWorld Cup in 1987 and he recalls that the culture of the side post-victory was starkly different.
The similarities between the 1987 and 2011 teams are eerily similar. They both played France in the final at Eden Park and while the 1987 side won comfortably, they, much like their successors, didn't play particularly well on the day.
Both All Black sides had a sense of simply wanting the day to be over - for the job to be done and the tension lifted.
The late John Drake said in Black Obsession: "I remember on the morning of the game [final] talking to Sean Fitzpatrick. We both agreed we were going to win and we both wished that we could hurry up and get it over and done with. That was it, very matter of fact."
With the World Cup out of the way, the 1987 side was able to play without inhibition; they grew in confidence and built a culture of excellence that was free of negatives
or doubts.
The 2012 team has done much the same. They have parked what happened last year; rid themselves of any fear and fundamentally, they are enjoying rugby this year in a way they probably didn't in 2011.
In fact, they are enjoying their rugby more than any time since the failure of 2007. The calamity of that campaign was acutely felt and lived with many of the squad between the last two World Cups.
In the wake of that disaster, senior players such as Richie McCaw, Daniel Carter, Ali Williams, Tony Woodcock, Andrew Hore and Keven Mealamu re-signed with the New Zealand Rugby Union with the single goal of putting things right in 2011. It became the elephant in the room as judgement day grew nearer to the extent it could no longer be ignored.
The focus is now about expressing themselves, about enhancing their performances individually and collectively and making sure they enjoy the process.
The sense of burden and obligation to deliver that one thing has gone and that is the key to the quality this side has so far produced. They seem more content and relaxed away from the field but just as intense on it.
"We have won the World Cup [but the focus for us] is about getting better," says Ma'a Nonu. "It is now about keeping our standards and knowing that we have put that [World Cup] behind us."
Copyright ©2015, NZME. Publishing Limited