Recipe: Chocolate butterscotch truffles with almond praline
By Donna Hay
5:00 AM Saturday Sep 1, 2012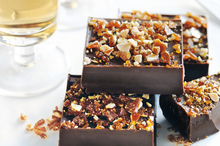 Chocolate butterscotch truffles with almond praline. Photo / Chris Court
Makes 36
3/4 cup pouring cream
600g dark chocolate, finely chopped
1/4 cup butterscotch-flavoured liqueur
1/2 cup raw sugar
1/3 cup flaked almonds, toasted
Butterscotch truffles
1 Place the cream in a small saucepan over high heat and bring to the boil.
2 Place the chocolate in a medium bowl and pour over the cream.
3 Place the bowl over a saucepan of simmering water and using a metal spoon, stir until the mixture is smooth and well combined. Stir in the liqueur.
4 Pour into a lightly greased 20cm x 20cm tin lined with non-stick baking paper and tap the tin to even the mixture.
5 Refrigerate for 2-3 hours or until firm.
Almond praline
1 Preheat oven to 200C.
2 Sprinkle the sugar evenly on a lightly greased baking tray lined with non-stick baking paper.
3 Cook for 15 minutes or until the sugar is melted and golden. Sprinkle over the almonds and allow to cool completely.
4 Transfer to a food processor and blend until finely chopped.
5 Remove truffle from the tin and bring to room temperature.
6 Cut into 36 even squares and sprinkle over the praline to serve.
* For more recipes by Donna Hay click here.
By Donna Hay
Copyright ©2016, NZME. Publishing Limited