Chris Schulz: Five must-see movie trailers (+videos)
12:00 PM Friday Aug 24, 2012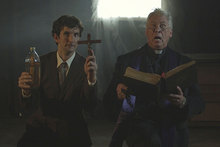 A scene from The Selling. Photo / Supplied
1. The Selling: A young real estate noob called Richard Scarry tries to get into the property game with a quickfire house sale. The only problem? The house is haunted - and it's about as haunted as a house can get, including the occasional door being opened to parallel worlds. This supernatural spoof doesn't shy away from scares but looks big on Ghostbusters-style laughs, so it could be a winning mix. Watch the trailer using the video player above.
Release date: TBC
Official website: Click here
2. Passion: Brian De Palma's new film looks super creepy in an Eyes Wide Shut kind of way. Passion stars Noomi Rapace and Rachel McAdams and is a remake of the French film Love Crime. The plot is a little hard to decipher but the film's first trailer is full of masks and murder and is probably NSFW. Watch it here.
3. Bachelorette: We've had The Hangover and Bridesmaids so it's no surprise that the wedding-themed shenanigans continue in Bachelorette. Kirsten Dunst and Isla Fisher star but let's hope Rebel Wilson gets plenty of screentime - she's one kooky lady. Check out the trailer here.
Official website: Click here.
4. Craig Zobel's Compliance is based on a fairly sketchy premise: Dodgy dude calls fast food outlet and makes the store manager strip search her staff after accusing them of stealing money. One reviewer said it might be the "most disturbing movie ever made" and the fact that it's based on a true story - more than 70 cases were reported in American between 1994 and 2004 - makes it even more chilling. Check out the trailer here.
Official website: Click here
5. The Impossible: Several nzherald.co.nz staff members had tears in their eyes after watching this one, and it's not hard to see why. With Ewan McGregor and Naomi Watts taking the lead, it focuses on the Boxing Day tsunami of 2004 - one of the biggest natural disasters of recorded history - with footage so realistic it takes you right back to that terrifying day. Watch the trailer here but be warned: You might need a tissue.
Official website: Click here
Want more? Then check out the first grotesque stills from the Carrie remake, featuring Chloe Moretz soaked to the skin in blood. Thanks for that, Daily Mail.
- Herald online
Copyright ©2016, NZME. Publishing Limited