Toyota launches its lightweight 86 coupe
By Liz Dobson
5:30 AM Sunday Aug 26, 2012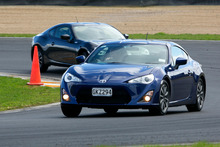 A low-slung profile and wide rear gives Toyota's sports coupe 86 a dynamic look and as rally champion Neal Bates says: "it's the most fun you can have without losing your licence".
The super sporty 86 coupe is selling faster than hot cakes.
Australia rally champion Neal Bates sums up Toyota's new sports coupe, the 86, in one sentence, "it's the most fun you can have without losing your licence".
At the New Zealand launch this week, the Toyota Australia driving instructor was flown in to highlight the capacity of the vehicle. And it's a vehicle Bates knows well. After testing the vehicle for Toyota he bought one - a white manual, of course - to use at his Canberra home.
As the sports version of the 86 was so popular in Australia, Bates had to use his Toyota contacts to track down a model that hadn't been presold, and eventually surprised a dealer in small town who had one available.
Demand for Australia's top spec model (the GTS) is such that there is a two year waiting list, said Bates.
The pre-launch demand here was just as strong as Australia with the 120 allotted models snapped up. It's no surprise really, as it's been a long time since Toyota has had a sports car in its lineup.
The 2-litre rear wheel drive coupe will be available in two specifications - the 86 and the racier GT86 - while the company brought in 20 versions of the Toyota Racing Development (TRD) package available (see p13).
Toyota NZ's General Manager of Sales, Steve Prangnell, said, "Our stock situation is good, but we know from what's been happening overseas that demand will exceed supply, and we're expecting the same situation here in New Zealand."
The six-speed manual base model 86 was priced at $41,986, a $1000 more for the automatic version while the manual GT86 would have the price tag of $46,986, and again another $1000 for automatic. To give the GT86 a sportier road presence, a sports aero kit was priced at $1600.
The sports coupe was a joint project between Toyota and Subaru, the result of Toyota's 17 per cent share in Subaru parent Fuji Heavy Industries. Subaru's version, the BRZ, cars land in New Zealand in December with the 12 cars already pre-sold.
The 86 and BRZ shared a normally aspirated 2-litre twin-cam flat-four that develops 147kW of power at 7000rpm and 205Nm of torque at 6600rpm.
Toyota chose natural aspiration for 86 to optimise acceleration response, improving the 'connection' between throttle application and power delivery to the rear wheels.
At 4.240m the 86 is shorter than a Corolla hatch and at 1.285m high is lower than a Yaris hatch, while the wide rear - and dual exhausts in the 86 and GT86 - create a dynamic look.
Inside the sports seats and streamlined fascia highlight value for money in this coupe - and even the two rear passengers seats could handle an adult - though anyone around 1.8m would find it a struggle.
But to back up Bates' "fun" theory, and test the handling and capability of the 86, the launch included an afternoon at Hampton Downs racetrack after a road trip from Rotorua, via Thames. A speed trial (or three) on the track, plus a lesson then spin (literally for some) on the skid pad showed its extensive handling and capability.
With the track day finishing, Bates reminded the media that the speed we reached on the track, and his hot lap combined with a drifting session, should stay on the track.
Easy advice from a man who is paid to drive fast around a track. Instead I fell asleep dreaming about driving fast around Hampton Downs.
By Liz Dobson
Copyright ©2016, NZME. Publishing Limited