New Indian expressway cuts travel time to Taj Mahal
3:27 PM Wednesday Aug 22, 2012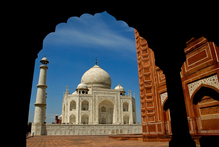 The 165-kilometre-long, six-lane Yamuna Expressway links New Delhi and Agra in about two-and-a-half hours. Photo / Thinkstock
The opening of a new toll road has reduced travel time between the Indian capital and the tourist destination of Agra, home to the Taj Mahal, by nearly half.
The journey on the 165-kilometre-long, six-lane Yamuna Expressway, which was built under a public-private partnership, now takes about two-and-a-half hours.
The toll for a single vehicle for a return journey on the same day is likely to be fixed at 510 rupees (about NZ$11.35), IANS news agency reported.
Travel between New Delhi and Agra in the adjoining state of Uttar Pradesh on the heavily used National Highway 2 takes more than four hours with regular traffic snarls.
India's most famous medieval monument, the Taj Mahal, was built by Mughal emperor Shah Jahan as a tribute to his queen Mumtaz Mahal and is seen as a symbol of eternal love.
The monument, which is more than 350 years old, took more than 20 years to build and attracts up to 14,000 visitors every day, according to the Archaeological Survey of India.
- DPA
Copyright ©2013, APN Holdings NZ Limited