Best links: Avengers gag reel revealed (+video)
11:35 AM Wednesday Aug 22, 2012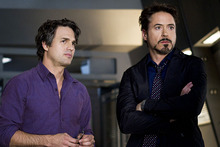 Mark Ruffalo and Robert Downey Jr from The Avengers. Photo / Supplied
1. Hit superhero The Avengers is about to be released on Blu-ray, and as advance publicity the gag reel from the DVD's bonus features has been released. Iron Man Robert Downey Jr seems to be the master of the off-the-cuff one-liner, and Captain America sucks at putting on his own parachute, but the funniest part is watching Loki trying to play dead. While corpsing. UPDATE: The video has been removed over copyright violations. (i09.com)
2. Sometimes, the internet comes up with things that make you snort coffee all over your monitor. Here's one of them: A cat singing the epic Game of Thrones theme tune. Put your cuppa down and enjoy. (YouTube)
3. If you're a Breaking Bad fan, be warned, this mash-up video is from the latest episode to screen in America, so if you're not up to date, there are spoilers involved. For everyone else, that supremely awkward dinner party scene has been spliced together with the Seinfeld theme tune. Watch it here. (Uproxx.com)
4. Speaking of Seinfeld, have you seen the bonkers Nickelback video starring Jason Alexander as a barista trying to win over a blonde hottie? Jesus. (Sorry, Trent). (nzherald.co.nz)
5. The Odd Life of Timothy Green is supposed to be a family friendly Disney affair, but these two kids don't think so. After seeing the movie, the pair sat in the back of a car and sobbed, while their parents filmed them. Then they put it on YouTube. As you do. Someone nominate them for a parenting award. (Daily Mail)
6. We all know long-haul plane flights can be tedious. Kanye West's dance crew found a good way to pass the time, by initiating a flash mob. This viewer's comment echoes my thoughts exactly: "Why does this never happen to me? In my airplane is there only screaming kids..." (YouTube)
7. Wrapped your head around the new Muse single Madness yet? Might take a few listen eh? Is that a dubstep reworking of a Queen song, beamed in from Mars? Sheesh... (NME.com)
8. Three new trailers to check out: The Impossible (about the Boxing Day tsunami), Bachelorette (basically an updated Bridesmaids) and Sleepwalk With Me (a stand-up comedian starts sleepwalking, obviously).
9. The first ad for the iPhone 5 has leaked. LOL. (Jest.com)
10. Yes, you made it to the end, you good thing. Your reward is the atmospheric and 100 per cent official new trailer for season two of Homeland. September 30 can't come soon enough.
Follow Chris Schulz on Twitter.
Copyright ©2016, NZME. Publishing Limited