Fiji: Sports tournament with a twist
By Steven McNicholl
5:30 AM Friday Aug 10, 2012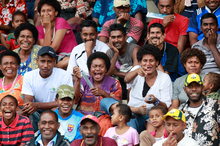 Fans attend the the Coral Coast Sevens tournament held at Lawaqa Park in Sigatoka. Photo / Steven McNicholl
Small boys shimmy up the trunks of coconut palms. Bigger boys climb the tallest trees. Groups of men watch from neighbouring rooftops. And inside the wire fence around Lawaqa Park, Sigatoka, every seat is taken by those fans who were lucky enough to get tickets.
This is the Fiji Coral Coast Sevens tournament, pinnacle of entertainment in sevens-mad Fiji, more a South Pacific carnival than a sporting contest. Over two days 24 teams play 60 games for a grand prize of F$30,000 (NZ$20,700).
It's the perfect place to get a taste of life of Fiji. The smell of hot sila (sweet corn) wafts across the ground from the food stalls. Teams huddle together to pray. Cheerleaders in banana-leaf hats and lettered shirts torn from old sheets practice their routine. And the spectators, mostly wearing team shirts, beam enormous smiles and cry "bula" to everyone.
The atmosphere is fizzing with excitement. It's also hot and sticky, with dark clouds looming overhead, and my clothes are soon stuck to my skin. Next time I'll wear the local uniform of long shorts and rubber thongs.
While the rest of Fiji runs on island time, the tournament runs like clockwork. As the first two teams take the field, the next two are already lined up silently, shoulder to shoulder, waiting for their turn on the pitch. The other sides huddle in the car park ready to be called.
The players make the bonecrushing tackles, huge overhead passes, magical steps, brilliant breaks and lightning-fast sprints typical of Fijian rugby, inspiring whooping, cheering celebrations from their fans.
After threatening all morning, the clouds finally give way and rain saturates the ground. Grass and dirt quickly turns to mud and after each game of 14 minutes of fast-paced play the teams leave the field taking a lot of it with them. They make their way to the back of the stadium, where a row of taps lines a corrugated iron fence, and hose themselves down.
Ignoring the rain, the fans continue to smile, dance, shout "bula" and enjoy themselves.
After two days of this excitement, the final features the Wardens playing the Police. It's a close-fought tussle but the player of the tournament Joji Ragamate strikes the killer blow on the stroke of halftime, scoring under the posts to give Wardens a 19-7 half-time lead.
The Police fight back in the second half, however the Wardens hang on to take the trophy, and the cash, 26-21.
But, really, as Quinny might say, sevens rugby was the winner.
CHECKLIST
Getting there: Air New Zealand flies daily to Fiji.
Further information: The 2012 Coral Coast Sevens will be held from November 15-17.
Steven McNicholl travelled to Fiji as a guest of Tourism Fiji, Shangri-La's The Fijian Resort and the Coral Coast Rugby Sevens Association.
By Steven McNicholl
Copyright ©2016, NZME. Publishing Limited