Royals to attend a series of Olympic events
9:07 AM Tuesday Jul 24, 2012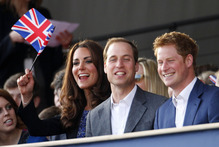 The Duke and Duchess of Cambridge with Prince Harry. Photo / AP
Britain's Prince William, his wife Catherine and his brother Prince Harry are set to cheer on the nation's medal hopefuls at a series of Olympic events, it was announced today
The three royals are scheduled to attend the opening ceremony alongside Queen Elizabeth II at the Olympic Stadium on Friday in their capacity as official ambassadors for Team GB.
The Duke and Duchess of Cambridge and Harry will watch equestrian competitors at Greenwich, southeast London, during the first few days of the Olympics, giving them a chance to see their cousin Zara Phillips compete.
Kate and William are scheduled to attend the tennis at Wimbledon, the swimming at the Olympic Park in Stratford and athletics at the Olympic Stadium.
Kate will carry out a number of Olympic engagements on her own, attending the hockey, gymnastics and sailing at Weymouth in Dorset, southwest England.
Harry is scheduled to have a courtside seat for the beach volleyball on August 8.
- AFP
Copyright ©2015, NZME. Publishing Limited