Recipe: Sugared toadstools
By Donna Hay
5:00 AM Thursday Jul 19, 2012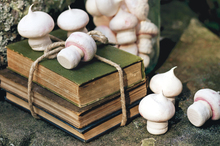 Sugared toadstools. Photo / Chris Court
Makes 36
4 egg whites
1 cup caster sugar
1 tsp white vinegar
Pink lustre dust and silver rainbow glitter, to decorate
1/4 cup white chocolate, melted
1 Preheat oven to 120C.
2 Place the egg whites in an electric mixer and whisk until stiff peaks form. Gradually add the sugar and vinegar and whisk until the mixture is thick and glossy.
3 Place the meringue into a piping bag fitted with a 12mm nozzle and pipe 36 x 4cm toadstool caps and 36 x 2.5cm toadstool feet on lightly greased baking trays lined with non-stick baking paper.
4 Bake for 25-30 minutes or until crisp to the touch.
5 Turn oven off and allow the meringues to cool in the oven for 1 hour.
6 Using a fine brush, brush the base of the caps with the dust and sprinkle the tops with glitter.
7 Dip the top of each foot into the white chocolate and attach to the base of the caps. Allow to stand at room temperature until the chocolate is set.
Chef's tip
Lustre dust and silver rainbow glitter are consumable sparkles used for baking. They can be found at speciality baking stores.
* For more recipes by Donna Hay click here.
By Donna Hay
Copyright ©2016, NZME. Publishing Limited