Netball: Pretenders want ball in their court
5:30 AM Friday Jul 13, 2012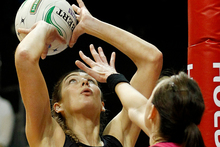 Irene van Dyk is still firing at 40 making Cathrine Latu's bid for national goal shoot difficult. Photo / Christine Cornege.
The top two Kiwi sides are fighting for one place in the transtasman league decider.
Monday night's preliminary final showdown, which pits the Northern Mystics against the Waikato-Bay of Plenty Magic contains a secondary battle well worth keeping an eye on as well - the Incumbents v the Wannabes.
With nine Silver Ferns on court, the match will double as an unofficial national trial, with coach Waimarama Taumaunu getting the opportunity to see how the established starting Silver Ferns compare with the players gunning for their spots under finals intensity.
Irene van Dyk (Magic) v Cathrine Latu (Mystics)
Mystics star Cathrine Latu has long been touted as Irene van Dyk's successor in the shooting circle. But the succession plan has been stretched out longer than initially thought.
Van Dyk, 40 last month, is in the midst of her best transtasman league season yet. Her shooting statistics, as always, are impeccable.
But where van Dyk has really excelled this season is with her variety on attack and range of movement. No longer just a holding shooter, the veteran has displayed an increased ability to wrong-foot her opponents with a well-timed dodge, roll or goose-step along the baseline. And, of course, her height and strength mean she remains a strong option for the long bomb into the circle.
Van Dyk's accuracy on goal is rivalled only by Latu, who has missed just 10 goals in her 14 games so far. But Latu's volume is well down on her Magic counterpart, averaging 26.4 goals per game compared to van Dyk's 31.5, with the Mystics sharpshooter displaying an unwillingness to put up shots outside of her playground under the goal. For now, van Dyk continues to reign supreme in the Ferns shooting circle.
Maria Tutaia (Mystics) v Julianna Naoupu (Magic)
Since snaring the starting goal attack role in the Silver Ferns in 2008, Tutaia has yet to have a genuine challenger to her throne.
But with the rapid improvement of the Magic's Julianna Naoupu this season, the Silver Ferns could finally have two strong options.
The pair's statistics this season are virtually identical - Tutaia is shooting at 76.5 per cent, Naoupu 75.3. And both have stepped up at playoffs time. In their respective semifinals last week, Naoupu shot 21/23 against the Adelaide Thunderbirds, while Tutaia finished with stats of 20/23 against the Melbourne Vixens.
Where the two can be separated is in their on-court persona. The Mystics star is cool and calm as she puts up up shots from anywhere in the circle. Naoupu, however, is more of an emotional player, which means the defenders certainly know when they're getting under her skin.
Naoupu has yet to prove she is capable of translating her ANZ Championship form to the international arena.
Despite showing strong promise, the 22-year-old was only picked in the national squad for the first time late last year, having struggled to meet the off-court standards set by Silver Ferns management. Now Naoupu has got past what she calls her "compliance issues" she seems certain to make the step up to the Ferns. Being thrust straight in to the starting role may be a step too far at this stage, but Taumaunu will be comforted to know she finally has a genuine option off the bench.
Casey Williams (Magic) v Kayla Cullen (Mystics)
Kayla Cullen has been billed as the most exciting young talent since well, Casey Williams.
Extremely fast and athletic, Cullen is a strong tracking defender and offers something quite different at goal defence than the rangy Williams. But she has a long way to go before she takes over Williams' mantle as the Silver Ferns' chief enforcer.
While the prospect of a Williams-Cullen defensive combination is appealing, the national selectors prefer to have the inspirational captain out roaming at goal defence. This means a positional change is likely on the cards for Cullen, who is in the running to win the league's rookie of the year award for the second straight season.
For now, Cullen is likely to fill the void at wing defence left by Joline Henry, who has withdrawn from the Silver Ferns this season as she is expecting her first child. But with a glut of quality defenders in New Zealand, expect Cullen to eventually find a home further up the the court. A former shooter, Cullen has strong attacking instincts and it is believed Taumaunu has plans to convert the youngster into a centre.
Leana de Bruin (Magic) v Anna Harrison (Mystics)
Williams' stronghold on the goal defence position means that effectively there are three players - Leana de Bruin, Anna Harrison and Pulse captain Katrina Grant chasing the starting goal keep role.
Last season it was de Bruin who was preferred at the back for the big matches, including the world championship final. But she faces stiff competition to hold her place in the starting line-up.
Although Harrison is an experienced player in her own right and can hardly be classified as a young up and comer, she has struggled to shake off the tag of "impact player" throughout her Ferns career.
Statistics put Harrison very much on par with de Bruin. The Magic defender is the better rebounder, and is second in the league in deflections, but Harrison has more intercepts to her name and is penalised less.
This season the Mystics defender has added another weapon to her arsenal - the Harrison Hoist. Some may argue assisted goal-tending make a mockery of the rules, but in reality there are very few defenders that can pull it off. Harrison has the build, vertical leap and exceptional timing to execute the potentially match-winning tactic.
But concerns linger over her consistency, with the wirey defender sometimes prone to letting frustration get the better of her. If she is to make the leap from impact player to a Ferns starter, Harrison needs a strong and consistent showing over what remains of the Mystics finals campaign.
Copyright ©2016, NZME. Publishing Limited