Eat at your desk? Guess your extra work hours...
10:30 AM Wednesday Jul 11, 2012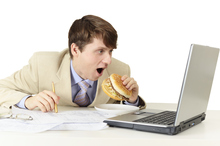 Office workers who eat at their desks may unwittingly be carrying out an extra 16 days' worth of work. Photo / Thinkstock
It's enough to make you choke on your sandwich - employees who do not take a break for lunch are doing an extra 16 days of work a year, research suggests.
And, to make matters worse, academics have warned that it could harm our health.
A poll of 1000 employees found that 60 per cent eat at their desks every day.
Two thirds leave the office for just half an hour or less, despite being entitled to an hour. Those who do make it out are far more likely to leave to meet professional contacts or clients than taking the opportunity to relax.
The researchers calculated that staff who eat in the office are working an extra 128 hours every year - the equivalent of 16 eight-hour days.
Workers polled said they were reluctant to take their full lunch hour because they did not want to risk being made redundant.
Half of those surveyed said it was now so common to work through lunch that they "felt guilty" taking the full hour.
The survey was conducted by the organisers of this week's Colmore Business District Food Festival, in Birmingham, and Aston University.
Dr Patrick Tissington, Associate Dean of Business Partnerships at Aston, said: "People do feel under pressure at work, many spending long hours at their desks, tapping away at keyboards, staring at screens and sitting with bad posture in awkward positions."
- Daily Mail
Copyright ©2016, NZME. Publishing Limited