Recipe: Pork, apple and cider pies
By Donna Hay
5:00 AM Tuesday Jun 26, 2012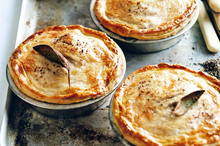 Pork, apple and cider pies. Photo / Chris Court
Serves 4
1 Tbsp olive oil
1 red onion, finely chopped
2 cloves garlic, crushed
500g pork mince
2 Tbsp plain flour
1 cup chicken stock
1 cup cider
150g shredded red cabbage
2 Granny Smith apples, peeled and grated
1/4 cup chopped sage, plus 4 leaves, extra
4 sheets store-bought shortcrust pastry
2 sheets store-bought puff pastry
1 beaten egg, for glazing
1 Preheat oven to 200C.
2 Heat the oil in a large non-stick frying pan over high heat. Add the onion and garlic and cook for 5 minutes until softened. Add the mince and cook for 4-5 minutes, until browned. Add the flour and cook, stirring, for 1 minute. Add the stock, cider, cabbage, apple and sage and cook for 4-5 minutes or until thickened. Allow to cool.
3 Cut 4 x 16cm rounds from the shortcrust pastry and use to line 4 x 9 1/2cm lightly greased pie dishes. Spoon in the pork.
4 Cut 4 x 13cm rounds from the puff pastry and place on the top, pressing edges to seal. Trim the excess pastry and cut a slit in the top of the pies.
5 Brush with the egg, top with a sage leaf and bake for 25-30 minutes or until the pastry is cooked and golden.
Tips and tricks
* Substitute beef mince for the pork for a different flavour.
* Combining the different pastries in the pies gives a deliciously flaky puffed top, while the bottom will have a sturdy shortcrust base.
For more recipes by Donna Hay click here.
By Donna Hay
Copyright ©2016, NZME. Publishing Limited