Should duty-free tobacco allowances be scrapped?
8:30 AM Monday Jun 25, 2012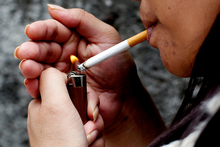 Photo / NZ Listener, David White
Health groups are joining forces to call for duty-free tobacco allowances for travellers to be scrapped.
Several groups have made submissions on the bill to authorise the tobacco tax increases announced in the Budget - and all have called for duty-free allowances to be scrapped and for tobacco tax increases to be much steeper than the proposed increases of 10 per cent a year over the next four years.
Should duty-free tobacco allowances be scrapped? Here is the latest selection of Your Views:
Copyright ©2016, NZME. Publishing Limited