Netball: Magic's bumpy season soars to new high
5:30 AM Sunday Jun 24, 2012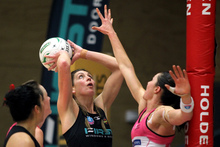 Magic's Irene van Dyk and Thunderbird's Sharni Layton. Photo / Mark McKeown/Musae Studios
Magic 59
Thunderbirds 42
Put this victory down to the power of two.
When the Magic signed Leana de Bruin at the end of last season, some wondered if it was a clever move. The Waikato franchise already had promising Silver Fern Sulu Tone-Fitzpatrick to play alongside Casey Williams, so what was the need for the veteran de Bruin?
Yesterday afternoon gave the answer. The twin towers of Williams (1.88m) and de Bruin (1.90m) were formidable, completely cutting off the supply to the Adelaide shooters.
Carla Borrego missed two shots all match, Erin Bell five - hardly nightmare numbers - but they simply couldn't get the ball. The two Ferns defenders continually led their opponents down blind alleys, pressured them into mistakes and came up with deflections and intercepts.
Borrego can be unstoppable on her day but that wasn't yesterday. She was continually out-thought, outfoxed and outpointed by her markers. If there is ever a book on the art of defence, we saw a couple of chapters yesterday.
At the other end the expected battle between Irene van Dyk and Sharni Layton never eventuated. Van Dyk and attacking partner Juliana Naoupu continually found space in the circle, helped by clever feeding from Langman and Khao Watts.
This thumping of the Thunderbirds shifts the Magic (momentarily) to the top of the table, a real turn-around after they sat rock-bottom after four rounds.
With 12 current or former internationals on the court (six on each team) fans expected a quality match but no one could have predicted this margin.
The Thunderbirds haven't had much joy against the Magic on New Zealand soil; their only win (in four previous attempts) had come in the 2009 preliminary final in Hamilton.
But they started strongly with the confidence of a table-topping team. The home side - cheered by a big Tauranga crowd - worked their way back into the game, taking the lead for the first time in the last few minutes of the quarter. Their confidence was encapsulated by Watts, who hit van Dyk with a booming pass from inside her own half to put the icing on the first 15 minutes.
Thunderbirds coach Jane Woodlands Thompson reassured her team - "We'll get there, we just need to keep tracking on defence" - but the Magic had hit the 'go' button and were not about to be reeled in.
They extended their lead to six by halftime.
The only worry was over a hobbling Williams. The Silver Ferns captain recovered to play a big part in an astonishing third quarter, with the Magic dominating the visitors. They scored 18 goals to seven to put the game out of sight and at one point went on a seven-goal run.
Naoupu was impressive with her movement and vision while Van Dyk was simply irrepressible in her first game as a 40-year-old.
It's also boosted their goal differential, which is now higher than the five rivals fighting for semifinal places.
Copyright ©2015, NZME. Publishing Limited