Recipe: Gingernut cookies
By Donna Hay
5:30 AM Saturday Jun 16, 2012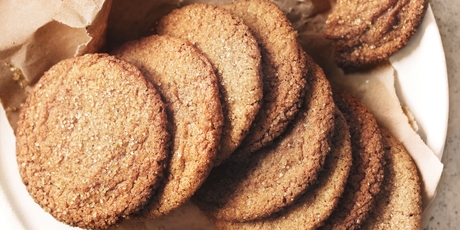 Gingernut cookies. Photo / Chris Court
The warm fragrance of heady ginger is the perfect spice for aromatic winter baking. Give cookies a liberal dose to make irresistible gingernuts that will be devoured the moment they leave the oven.
Makes 24
150g butter, softened
1 tsp vanilla extract
1 1/4 cups brown sugar
1 egg
1 1/4 cups plain flour, sifted
1 Tbsp ground ginger, sifted
1/4 tsp baking soda, sifted
1 cup demerara sugar, for rolling
1 Preheat oven to 180C. Place the butter, vanilla and sugar in a mixer and beat for 8-10 minutes or until combined.
2 Add the egg and beat for 2-3 minutes or until pale and fluffy.
3 Add the flour, ginger and baking soda and beat until a smooth dough forms.
4 Roll tablespoonfuls of the dough into balls and roll in the demerara sugar.
5 Place on baking trays lined with non-stick baking paper, leaving room to spread. Bake for 10-12 minutes or until edges are golden. Cool on wire racks.
* For more recipes by Donna Hay click here.
By Donna Hay
Copyright ©2013, APN Holdings NZ Limited