Two new movie trailers: The Bourne Legacy & Les Miserables (+videos)
10:59 AM Friday Jun 1, 2012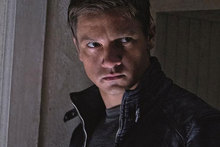 Jeremy Renner as Aaron Cross in The Bourne Legacy. Photo / Supplied
Two new movie trailers for the highly anticipated films The Bourne Legacy and Les Miserables have been released online.
The first is a new look at The Bourne Legacy, the fourth film in the series and first without Matt Damon.
The new one stars Jeremy Renner as Aaron Cross, and if the new trailer is anything to go by, it continues the films' love of fight scenes, high octane action and car chases - all infused with a political element.
It is directed by Tony Gilroy, a screenwriter on the first three Bourne films and has several new faces, including Rachel Weisz, Edward Norton, Stacy Keach and Oscar Isaac.
Albert Finney, Joan Allen, David Strathairn and Scott Glenn reprise their roles from the trilogy.
The Bourne Legacy is due to hit New Zealand cinemas on August 16.
Meanwhile, the big screen adaptation of hit musical Les Miserable stars Anne Hathaway as prostitute Fantine and Hugh Jackman as Jean Valjean.
The star-studded cast also includes Russell Crowe, Amanda Seyfriend, Sacha Baron Cohen, Helena Bonham Carter, and Eddie Redmayne.
It is directed by Tom Hooper, who last helmed The King's Speech.
A local release date for Les Miserables hasn't been set.
Watch the trailer for The Bourne Legacy:
Watch the trailer for Les Miserables:
- Herald online
Copyright ©2015, NZME. Publishing Limited