Netball: Mystics move to top of the table
5:30 AM Monday May 28, 2012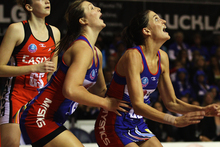 Anna Harrison of the Mystics is lifted up to defend a shot at goal by Jessica Moulds during the round nine ANZ Championship match. Photo / Getty Images.
The Northern Mystics have held off a second half fightback to beat the Canterbury Tactix 57-56 in Auckland.
The Mystics led by seven at half time, and though they never lost the lead, were pushed close by the bottom-of-the-table visitors.
The Aucklanders go to the top of the ANZ Championship, with seven wins from nine games, ahead of the bye in round ten.
Copyright ©2016, NZME. Publishing Limited