Netball: De Bruin mishap worry for Magic
5:30 AM Tuesday May 15, 2012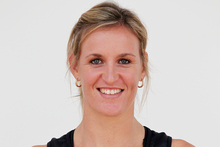 Leana de Bruin. Photo / APN
Magic 56
Pulse 46
The momentum continues to build for the Magic, but worryingly so too does their injury list.
The Waikato/Bay of Plenty side outclassed the Central Pulse in Porirua last night to record their third-straight win of the season, continuing their comeback from a horror 0-4 start to the season.
But with star defender Casey Williams on restricted duties as she manages "ankle issues", and utility Jess Tuki nursing a painful back complaint, the last thing Magic coach Noeline Taurua needed last night was for her other frontline defender, Leana de Bruin, to pick up an injury.
The Silver Fern injured a calf late in the third quarter, and although in a lot of pain, battled on for another few minutes. But with de Bruin's mobility severely restricted, Taurua had no choice but to bring on Williams in the final period.
No doubt frustrated at having an enforced rest, Williams provided some highlights in her 10 minutes off the bench, picking up two impressive intercepts.
But with Williams' injury needing to be carefully managed, Taurua will be hoping de Bruin's calf problem is not too serious.
Still, Taurua is fortunate that she has another Silver Fern defender to call on in Sulu Tone-Fitzpatrick.
Consigned to the bench for much of the first half of the competition, Tone-Fitzpatrick got her first start of the season last night at goal keep.
Elevated to the Silver Ferns in 2011 for the end of year tests, Tone-Fitzpatrick has had little game time this season as she has been forced to wait behind Williams and de Bruin.
The young defender relished the opportunity to get back in the circle last night after making cameo appearances at wing defence - a position where she has struggled.
Despite the changes to the line-up the Magic made a strong start, with their attack end picking up where they left off last week in their 16-goal win over the West Coast Fever.
Leading 16-11 at the first break, the Magic made a storming start to the second period, extending their advantage out to nine goals five minutes in to the quarter, before they went stone cold.
Over the next five-minute block the Magic scored just one goal, as the Pulse stepped up their defence throughout the court. Joline Henry was a particular stand-out for the Pulse, playing a hand in forcing several Magic turnovers.
With three minutes to go the Pulse had reduced the deficit to just one goal, with the chance to level the score at 24-all but Camilla Lees was unable to pull in a wayward pass and the ball spilled over the sideline.
That gave the Magic the opportunity to restore a bit of breathing room before the halftime break, as they took a four-goal lead in to the third period.
Again the visitors opened strongly, showing greater fluency in their through court play, and this time were able to build on their lead.
Waikato-BOP Magic 56 Central Pulse 46
1Q: 16-11, HT: 27-23, 3Q: 44-33
Copyright ©2015, NZME. Publishing Limited