Prince Harry, Chelsy Davy 'seeing each other' again?
2:00 PM Wednesday May 9, 2012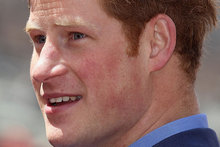 Prince Harry is reportedly seeing Chelsy Davy again. Photo / Getty
Mollie King, look away now.
Is it a right royal romantic resurrection for Prince Harry and on-again, off-again gal Chelsy Davy?
According to Britain's Daily Mail, the party royal, 27, and his former girlfriend, 26, are back on again.
The pair, who split in 2009 after five years of dating, has reportedly been seeing each other on the down-low over the past month, and is keen to keep their reunion hush-hush.
Sound suspiciously familiar? The tabs were reeling with similar tales of fancy princely footwork during his rumoured dalliance with Molly King.
More on her later. In the meantime, suspend your disbelief, folks.
"They have been meeting at the homes of friends and at private house parties. Chelsy has seen Harry in the past three weeks, although she doesn't really like talking about it. She's been very coy," says a source.
"It seems to be a relationship with no strings attached. The fact is they are still hugely attracted to each other and never really fell out of love.
"Both are keen to keep meetings under the radar and insist it's not an official getting back together. It's a lot more casual."
Another source chimed in on the rumoured clandestine canoodling: "It seems to be a relationship but with everything they've been through in the past they appear to be keeping it under wraps at the moment.
"It's almost like they don't really want to jinx it with the glare of publicity," the snitch added.
"They are still hugely attracted to each other and have a massive history. Both are keen to keep meetings under the radar and insist it's not an official getting back together. But who knows?"
"Harry definitely holds a torch for Chelsy," a pal adds to the Mail. "The fact that she is not rushing to get back with him makes him want her even more. At the moment, Chelsy says she's focused on her work and doesn't have time for a proper boyfriend."
The royal was most recently linked to The Saturdays singer Molly King.
Sources claimed they were "casually dating" and that Harry was "completely smitten" with King.
The singer slammed the romance rumours on Twitter last month.
"Guys I'm getting lots of tweets about Prince Harry but as i said last wk, i'm not dating him & we're not in a relationship. We're just friends", King tweeted.
Handler recently ended her relationship with property developer Taylor McWilliams, and has just finished up her law training.
A source tells Us Weekly that Davy has scored a job at a London-based law firm.
"If Harry can stay in London for a while, then he has a good chance of being back on with Chelsy, but she doesn't like it when he has to go away for months on end," a source tells the magazine.
"It's easier to be apart, than together and pining for someone you can't see."
Adds yet another source: "They're not dating again, but they are seeing each other. There's definitely a romantic connection still. They will never be 'just friends' - both of them admit that's impossible."
To be continued...
- Blogger Bites Back
Copyright ©2015, NZME. Publishing Limited