Dominic Corry: Has there ever been a great part four?
10:00 AM Wednesday Apr 11, 2012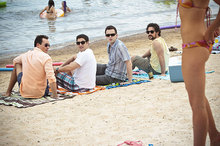 A scene from American Pie: Reunion. Photo / Supplied
When I saw American Pie: Reunion last week, I was surprised by how un-terrible it turned out to be.
It wasn't a great film, but it kept me entertained. And it did a much better job than the other recent late-arriving sequel to a beloved '90s franchise - Scream 4.
Maybe I felt such goodwill to American Pie: Reunion because part three (American Pie: The Wedding) was so terrible; maybe it's because I was impressed that the franchise had been able to get itself back on the big screen after four straight-to-video spin-offs, or maybe it was just that I was so surprised to enjoy a film that represented the fourth entry in a franchise.
As these things tend to, it got me thinking. Has there ever been a fourth entry in a film series that could be considered great? There's something inherently pathetic about a fourth entry in a series.
Trinities are an established story-telling form. Part fours just seem desperate - the drop in credibility from part three to part four is considerable. So are there any decent part fours?
1998's Lethal Weapon 4 certainly isn't one. Like American Pie: Reunion and Scream 4, this felt driven by nostalgic feelings for the series and the talent needing a pay cheque/hit, as opposed to any tangible drive to expand upon the world of the films.
There was a similar situation with 2007's Die Hard 4.0, which castrated Bruce Willis' iconic character by preventing him from articulating the F-word.
Police Academy 4: Citizens on Patrol failed to recapture the heady heights of Police Academies 1 to 3, but that didn't stop the franchise from making it up to part seven (Police Academy: Mission To Moscow) which inexplicably dropped the number from the title. A reboot is in the planning stages, natch.
It was a matter of course for horror franchises to pump out endless sequels in the salad days of the 1980s, but they were never any good. Friday the 13th: The Final Chapter proved to be anything but, with Friday The 13th: A New Beginning appearing the very next year.
1988's Halloween 4: The Return of Michael Myers is notable for returning the central antagonist to the series after the interesting franchise re-think Halloween III: Season of the Witch, but it is a terrible movie. Nightmare on Elm Street 4: The Dream Master (1988) is barely distinguishable from parts 3 and 5.
Reboots of all three of these series have failed to reach number four as yet.
In a technical sense, the original Star Wars film is a part four. But nobody really sees it that way, and the fourth film to be released in the saga (if you don't count the Ewok films) - The Phantom Menace - is one of the most derided films of last 20 years. The possibilities of 1997's Alien: Resurrection got everyone excited, until they saw it.
Other notably bad part fours include Superman IV: The Quest for Peace (1987) Indiana Jones and the Kingdom of the Crystal Skull (2008); Jaws: The Revenge (1987) Fast & Furious (2009); The Final Destination (2009); The Twilight Saga: Breaking Dawn - Part 1 (2011) and The Next Karate Kid (1994).
So what are the good ones? 2005's Harry Potter and the Goblet of Fire is one of the better films in the series, and 2008's Rambo was a respectable exercise is sustained brutality. Rocky IV had its moments, and was one of the most financially successful of the Rocky films, but few would call it great.
Fans often describe Star Trek IV: The Voyage Home as the best film in the original series of Star Trek films but I think the only truly great part four I can think of is last year's Mission Impossible: Ghost Protocol. That movie ruled.
The notion of a fourth Mad Max film has been around for a while, and it only seems like a matter of time until they make another Jurassic Park entry. These both have potential.
* Are there any part fours you have a soft spot four? What are the worst? Any Death Wish 4: The Crackdown fans out there?

Copyright ©2015, NZME. Publishing Limited