Mount Maunganui: Surprise your senses
By Danielle Wright
12:00 PM Wednesday Mar 7, 2012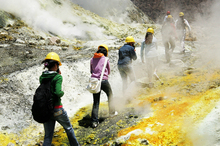 Tourists disappear into the sulphurous mist on a trek around White Island. Photo / Alan Gibson
A lot has changed at the Mount in the 30 years since my grandfather and I walked to the top of the cone in search of rabbits, but one thing has remained the same: the islands on the horizon seen from the summit. This visit, I took a boat, a plane and a kayak to find a different perspective on a place I thought I knew.
Mayor Island
There's an unusual beauty to Mayor Island (Tuhua). After a three-hour boat-trip, it's hard to take it all in, so different is it from any other island I have visited. This is thanks to its lack of mining and forestry.
The emerald water, translucent against the fish and stingrays, the rocks, so craggy with caves, and the immense green of thick and twisted pohutukawa forests complete with cobbled-together buildings among the giant tree roots and a couple of people, in their 80s, merrily swinging from the anchor of their moored boat. It's hard to know what to look at first.
Then there are the sounds - thousands of tiny pebbles being turned over with each lap of a wave, and birdsong layered with so many different tunes sung at once. Every sense is taken by surprise.
And that's just the entrance-point. Head into the forest and there's just as much to be discovered inland, including the Devil's Staircase, a three and a half-hour round-trip taking in part of the crater rim, complete with a steep ladder climb.
The world's largest pohutukawa tree is a 40-minute return walk from the boat's landing-point at South East Bay but, about a year ago, a storm uprooted it so now it's the world's largest pohutukawa tree ... on the ground. It's still worth the walk in this pretty piece of paradise.
Getting there: We made the 26km journey with Seatrek on a former Government boat that once used to service lighthouses. Contact Tim Olsen on 027 496 9973.
To make a private booking to land and/or stay on the island, contact the Department of Conservation in Tauranga on (07) 578 7677 or email taurangainfo@doc.govt.nz.
White Island
The most famous island in the region is White Island (Whakaari), reached by boat, helicopter or plane. I'm visiting in a tiny Cessna six-seater
The take-off from Whakatane Airport is smooth and even the cows grazing at the edge of the runway don't look up as we head out to the only active marine volcano in the country.
Steve, our pilot, gives us a history lesson on the island, apparently named by Captain Cook because he noticed a white cloud hovered over it permanently. It is estimated at between 100,000 and 200,000 years old and is a hissing, steaming, roaring ecological wonder.
As we fly over the top, we see the landscape stained yellow by sulphur and feel the air turbulence caused by the gases, as well as the smell.
Three large helicopters land near the disused sulphur mines. Boats on day-trips are taking advantage of the warmer water and unique diving.
A few people in gas masks walk on the lunar-landscaped volcano below us as I read the brochure announcing it "may or may not erupt at any time and without warning".
It's a somewhat surreal experience flying over the volcano and we're given plenty of angles for photos. One gives a clear view of two large gannet colonies, as well as the spot where mine workers once lived.
"They'd boat to the mine or, if the weather conditions were bad, would walk to work," explains Steve, who takes us back to Whakatane over the heads of a pod of dolphins. We fly low and circle over them as they dip and dive.
It's a trip that will stay in all of our minds for a long time.
Getting there: The White Island Scenic Flight is one hour and costs from $185 a person (group of three). Visit the website or call (07) 308 7760.
Matakana and Leisure Islands
Adventure Bay of Plenty's Grant Bradley takes me on a kayak paddle from Pilot Bay around the Mount to Leisure Island, then stops at Matakana Island.
It offers us another perspective. I didn't know seals sunned themselves on the rocks off the edge of the Mount in winter, or that the water was filled with blue penguins, dolphins, stingrays and offered a chance to see whales, though, less of a chance than a year ago.
"We used to have a 97 per cent chance of seeing a blue penguin," says Bradley. "Since the Rena disaster we have a 97 per cent chance of not seeing one."
Despite the disaster, business has not been slow. The only sign of anything wrong are the "F*** You Rena" T-shirts for sale and locals picking up debris on the shore as we paddle past.
We end up near Leisure Island (Moturiki), the rocky strip of land attached to the east of Mt Maunganui Beach by a short sandspit, which was once home to a marine park with performing dolphins and seals.
After stopping to chat to another kayaker, we paddle back around the Mount and meet two blue penguins before taking a break at Matakana Island, the long strip of land covered in pines, orchards and dairy farms, just across from the Mount.
Horse treks are available, if you can track down the caretaker to book a time, and there's a barge to the island daily.
TRAVELLERS' TIPS
Where to stay: The Pacific, 8 Maunganui Rd, Mt Maunganui, was our home for the week. It had views of Pilot Bay, the Mount and hot saltwater pools, Mt Maunganui's main beach and featured floor-to-ceiling windows to watch the people passing by, either on foot or parachuting from the top of the Mount. The 15m pool and spa also made a nice alternative to the hot saltwater baths across the road. Rooms start at $140 a night.
Further information: Mt Maunganui Marvel kayak tour is $125 for a half day from Adventure Bay of Plenty. Visit the website or call 0800 238 267 for bookings. Personalised trips can be arranged.
By Danielle Wright
Copyright ©2016, NZME. Publishing Limited