League star charged with assault
9:34 AM Saturday Feb 25, 2012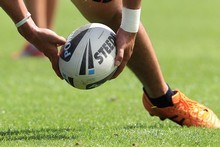 A former rugby league international will face court on Tuesday charged with assault. Photo / NZ Herald
A former international rugby league star has been charged with assault after an altercation with his daughter in front of on-lookers.
The sportsman allegedly jumped out of his vehicle and began verbally abusing the girl after she walked out of a Waikato police station with another woman about 1pm yesterday.
Police confirmed the man was later arrested and charged with assault.
He will appear in Huntly District Court on Tuesday.
Copyright ©2013, APN Holdings NZ Limited