Cricket: Rain expected to halt third Twenty20
10:07 AM Wednesday Feb 22, 2012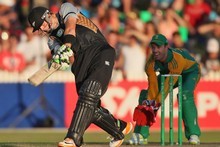 Rain could ruin the third Twenty20 tonight. Photo / Getty Images
The ground staff face a busy night at Eden Park tonight with rain forecast throughout the third and final Twenty20 international between the Black Caps and South Africa.
MetService forecaster John Law says fans heading to ground should prepare for the possibility of getting wet.
"There is a good number of showers around the northern parts. It is going to be a very showery system across Auckland as well," Mr Law said.
"So it is not out of the question we could see a few showers run through, it could be stop and start story for the cricket."
The match will decide the series after South Africa tied it up at 1-1 when they eased to an eight wicket win at Seddon Park on Sunday.
- HERALD ONLINE
Copyright ©2013, APN Holdings NZ Limited