Heading this way... the Haus of Gaga
5:30 AM Friday Feb 10, 2012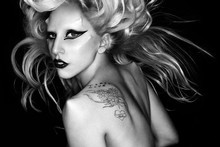 Lady Gaga. Photo / Supplied
Lady Gaga's New Zealand fans will be counting down the days until June to see their idol, but local Madonna devotees must wait until at least 2013 to see the Material Girl perform.
Yesterday, Gaga, the reigning Queen of Pop, announced she would perform at Vector Arena on June 7 on her Born This Way Ball tour.
It will be her third New Zealand appearance after two sold-out Vector concerts in 2010 and opening for Pussycat Dolls in 2009.
When she was last here, Gaga's show was a typically grand and extravagant spectacle with several costume changes including a black leather bikini and what looked like a nun's habit made out of a condom.
But the eccentric star, who shot to fame with songs such as Poker Face and Paparazzi in 2008, has promised to outdo herself on this tour in support of her latest album, 2011's Born This Way.
"The Haus of Gaga and I have worked for months conceiving a spectacular stage," she said. "The Born This Way Ball is an electro-metal pop-opera - the tale of the beginning, the genesis of the kingdom of Fame. How we were birthed and how we will die celebrating."
The starting price for tickets is $79.90 with Visa cardholders able to get pre-sale tickets from Monday at 9am via visaentertainment.co.nz with public sales starting at 9am February 17 from ticketmaster.co.nz.
Gaga is also up for a number of Grammy Awards on Monday (NZ time) including album of the year for Born This Way.
Meanwhile, the chances of Madonna - the former Queen of Pop - coming to New Zealand for the first time have increased with news she will play in Australia for the first time early next year.
This week the 53-year-old announced her biggest world tour via promoters Live Nation, the company which is also bringing Lady Gaga to Auckland. The tour, which includes at least 90 dates, kicks off in Tel Aviv in March.
Copyright ©2015, NZME. Publishing Limited