What's your favourite camping area in New Zealand?
2:00 PM Friday Nov 18, 2011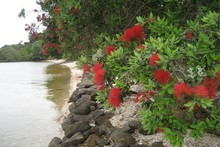 The campground at Aroha Island in the Bay of Islands is run by a charitable trust. Photo / Northern Advocate
A lot of campgrounds may have closed, but New Zealand is still full of little-known, wonderful places to go camping.
What's your favourite camping area in New Zealand - and why? Here is the latest selection of Your Views:

Copyright ©2015, NZME. Publishing Limited