Bubbling with joy
11:30 AM Wednesday Nov 16, 2011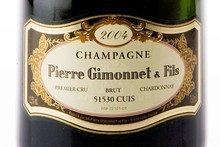 Champagne Pierre Gimonnet et Fils "Special Club" Premier Cru Brut 2004 $129. Photo / Babiche Martens
Soljans Fusion Sparkling Muscat NV $16.95
This pretty and perfumed asti-style sparkler makes the perfect start to a party or pairs well with fruit desserts such as pavlova. At just 8 per cent, it's light in alcohol with a soft grapey palate infused with nuances of blossom and finishing on a fresh lemony note. (From Cellar Select, Liquor Centre, King Dick's, Local Liquor.)
Everwild Reserve Sparkling Sauvignon Blanc NV $19.99
Love them or hate them, sparkling sauvignons have well and truly insinuated themselves into the sparkling wine category. This is a vibrant example from a new label that combines notes of ripe peach and passionfruit, with a hint of herb and a zesty lick of lime and lemon sherbet. (From leading supermarkets and liquor stores.)
Lindauer Special Reserve Blanc de Blancs Bottled Fermented NV $19.99
Last year the popular budget sparkling brand Lindauer may have changed hands, but a recent tasting of the range revealed that it still cuts a mean quality-to-value ratio. This is clearly illustrated by its impressive blanc de blancs; its mix of crisp apple and grapefruit with the nutty, toasty and yeasty complexity associated with far more expensive sparklers makes it one of the best bubbly buys under $20. (From all major wine stockists.)
Luna Argenta Prosecco DOC $20
Prosecco is Italy's most famous sparkling wine, which has been experiencing a major surge in international popularity of late. Though it has yet to take off in a big way here, if you like your fizz dry and fresh, then prosecco is definitely worth a punt. The Luna Argenta is a most agreeable and affordable example with light clean flavours of green apple and zingy citrus. (From La Barrique, Farro Fresh, Hillsdene Wines, Good Food Trading Co.)
Highfield Elstree Marlborough Cuvee Brut 2007 $38
Highfield makes a richer style of sparkling, with weight added to the wine through its extended time on yeast lees and partial fermentation in oak. Its 2007 vintage is a particularly fine example, with powerful notes of toasted spice bread counterpoised by a brisk grapefruit acidity. (From Caro's.)
Morton Estate Blanc de Blanc 2002 $30
It's great to see a delicious older vintage available on the market this festive season.
Matured on its lees for five years - in contrast to Champagne's minimum of 15 months for non-vintage and three years for vintage wines - this has helped imbue this bubbly with a rich bready character, backed by a lift of apple and citrus and a seductively silky mousse. (From Morton Estate Cellar door, selected branches of New World.)
Champagne Pommery Springtime Brut Rose NV $99.99
Rose is another sparkling style that's becoming increasingly fashionable. In champagne it's taken very seriously, with pink versions often commanding higher prices than a house's standard white examples. This is one of the best value rose champagnes around, with elegant nuances of fruits of the forest and sappy citrus supported by a subtle yeasty undercurrent. (From La Barrique, Primo Vino, The Wine Barrel.)
Champagne Beaumet Cuvee Brut NV $44.99
If it has to be Champagne and the Christmas bonus doesn't look like it will cover the cost of most cuvees, don't despair. Caro's has sourced this creditable champagne, with its dry and racy palate of green apple and almond cake, which they reveal was made by the prestigious champagne house of Laurent Perrier. (From Caro's.)
Champagne Gosset Excellence Brut NV $86.99
Power and elegance coalesce in this full-flavoured and complex champagne from a historic house. It's creamy textured with notes of tarte tatin, hazelnut and buttered toast over rich savoury undertones, which are beautifully balanced by a core of crisp citrus and mineral. (From major wine stockists.)
Champagne Cattier Brut NV $54.95
Another amazingly affordable champagne with a good track record, Cattier's Brut NV is light and fresh with crisp pear, apple and citrus fruit over hints of honeysuckle. (From La Cantina Wines and selected wine stores.)
Champagne Louis Roederer Brut Premier NV $105.99
Finesse and freshness are what Louis Roederer's Brut Premier is all about in its elegant notes of sweet pastry fused with lifted citrus, mineral salts and subtle yeasty undertones.
If you're looking to give this as a gift, it also comes in a variety of cool contemporary gift boxes. (From Caro's, Fine Wine Delivery Company, First Glass and other selected fine wine stores.)
Champagne Pierre Gimonnet et Fils "Special Club" Premier Cru Brut 2004 $129
This refined and intense vintage cuvee with its pure and poised layers of apple, citrus, chalky mineral and spice is something really special.
Made entirely from chardonnay sourced mostly from old vines in the Grand Cru vineyards of Cramant, the wine's "Special Club" status indicates its maker is a member of exclusive Club Tresors de Champagne, a group of quality focused grower-producers, who guarantee any champagne sporting its members Special Club designation was made from a great year and from vintage wines that have been approved by several tastings. (From Wine Circle.)
NV vs Vintage
Non-vintage sparkling wines - shortened to NV - are made from a blend across a number of years, often to even out variation between vintages in cooler regions such as Champagne and to assist in making a consistent producer, or "house" style. In contrast, vintage examples contain grapes from just one year, which in Champagne is made in the highest quality years, from the best grapes, with a higher minimum ageing period set down in law.
Here in New Zealand, these terms are less important, given there are no different regulations covering these two terms as there is for Champagne. However, older vintage dates on local fizz can be an indication that the wines have spent more time maturing in bottle on their yeast lees, something that makes for a richer, more complex bottle of bubbly.
Champagne vs Sparkling
So what's the difference between champagne and sparkling wine? Champagne is a sparkling wine, but the main difference is where it comes from, which can only be the Champagne region of northeastern France. Its name, which has become synonymous with luxury and celebration, is something the region fiercely protects and legislation now means it cannot be used by wines from elsewhere as was the case in the past.
Sparkling wines are now made throughout the world, the best hailing from the cooler areas that have the conditions to engender the light fresh wines required for the finest fizz. New Zealand is definitely one of these, and in recent years our examples and those from other chillier climes have certainly started to give some champagnes a run for their money. However, when it comes to the truly top sparkling wines, champagne is still hard to beat.

Copyright ©2016, NZME. Publishing Limited