Album Review: Bannerman - Dearly Departed
5:30 AM Saturday Nov 5, 2011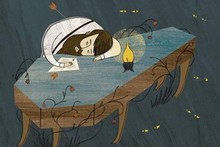 Bannerman - Dearly Departed cd cover. Photo / Supplied.
Lead singer and songwriter for both rhythmic monster Batucada Sound Machine and hard-growling act The Brood, Aucklander Richie Setford is a prolific fellow, and Dearly Departed is his second solo album under the moniker Bannerman.
This 10-track gem embraces alt-rock-folk as its basis (the songs are full of vivid imagery and tell miniature, twisting stories) but there's a deep groove to many tracks, like on irresistible foot stomper Brother With The Bleeding Heart, along inflections of country, some Eastern-European gypsy-ish touches, and some good old 70s rock, like The Howling Wind. Beautiful indie-ballad The Year That Has Gone has rich guitar tones complemented by some cocooning vocal harmonies, and allows the delicate splendour of Setford's voice to shine. He has an enviable range, able to swing from a Nick Cave-esque baritone dripping with pathos, to a hard-rock growl and then to a James Milne or Chris Martin type upper range, full of fragility. A deeply engaging listen.
Stars: 4.5/5

Copyright ©2016, NZME. Publishing Limited