Recipe: Marshmallow vampire bats
By Donna Hay
10:00 AM Monday Oct 31, 2011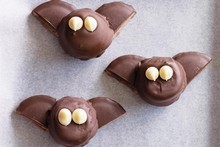 Marshmallow vampire bats. Photo / Chris Court
Makes 20
20 white marshmallows
200g dark chocolate, melted
20 small chocolate-coated biscuits, halved
40 small white chocolate melts
1. Dip the marshmallows into the melted chocolate and place each on 2 halves of the chocolate biscuits to create the bat bodies.
2. Place on a baking tray lined with non-stick baking paper.
3. Place 2 white chocolate melts on each bat to make eyes.
4. Refrigerate until set.
* For more recipes by Donna Hay click here.
By Donna Hay
Copyright ©2015, NZME. Publishing Limited