Has the Govt acted too slowly over the Rena oil spill?
8:22 AM Tuesday Oct 11, 2011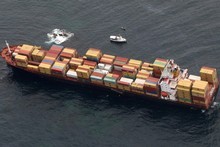 The container ship, Rena, sits on Astrolabe Reef, off Motiti Island, Bay of Plenty. Photo / Joel Ford
Defence Force personnel have been deployed in the emergency response to the grounding of the stricken cargo ship on Tauranga's Astrolabe Reef.
The Liberian-flagged Rena was carrying about 1700 tonnes of heavy fuel oil and about 70 tonnes of marine diesel when it struck the Astrolabe Reef at top speed on October 5.
Fist-sized clumps of oil have now began washing ashore at Mt Maunganui's main beach.
Has the Govt acted too slowly over the Rena oil spill? Here is the latest selection of Your Views:
Copyright ©2015, NZME. Publishing Limited