What are your greatest All Black moments?
6:51 AM Wednesday Aug 3, 2011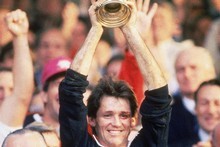 David Kirk lifts the 1987 World Cup. Photo / Getty Images
In part two of a five-part World Cup series, the Herald looks at dozens of the great All Black moments that have been burned into the memory.
But what's the greatest moment of them all?
Is it the 1996 series win over South Africa, or the first and only team the All Blacks lifted the Rugby World Cup?
Or is it a try? Jonah Lomu's against England at the 1995 Rugby World Cup or five years later when he scored a match-winner against Australia?
Rank your top moments below.
Copyright ©2016, NZME. Publishing Limited