Our hungry kids: Maths, English and table manners
By Jessica Beresford
5:30 AM Thursday Jul 28, 2011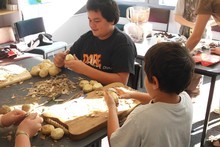 Children at Porangahau School work together to prepare food for classmates. Photo / Supplied
Porangahau School in Hawkes Bay is setting a good example when it comes to dining room etiquette.
The decile 4 school has 30 pupils, who eat their meals, including breakfast, at a dining table in their "cafe".
Principal Doug Hales believed eating together was important for the children to learn social skills and the routine of a family environment.
"It's done a lot for the school culture in a sense that kids are there together, they're talking, old ones, young ones, and we've taught them manners and things like that."
The school is part of the KidsCan programme and receives food and other items such as waterproof jackets and shoes.
"It would have been hard to [eat together] without KidsCan because you've got to have something else there to provide food for those kids who haven't got it. It would be really bad sitting there with no food."
The children are taught customs to do with eating as a group, as well as how to set the table and present food. They are also encouraged to cook.
Mr Hales said the process encouraged healthy and social eating. Many children did not eat meals at a dining table at home so it was a good chance to sit down with others.
The senior classes cook for the school every second Friday and Mr Hales said the preparation of food was also important as the children learned to work together in teams.
KidsCan gives the school milk, Weetbix, bread, spreads and health bars.
"The concentration levels in the school have gone up significantly since we have done this," Mr Hales said.
By Jessica Beresford
Copyright ©2016, NZME. Publishing Limited