Shrek to Te Papa?
12:45 PM Friday Jun 10, 2011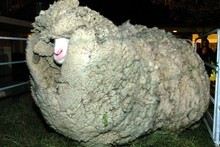 The remains of Shrek the sheep may be bound for Te Papa. File photo / NZ Herald
Moves are afoot to have the remains of Shrek the celebrity sheep donated to Te Papa, where his hide could be displayed alongside the skeleton of famed New Zealand-bred racehorse Phar Lap.
New Zealand's most famous sheep was put down on Monday. The merino wether - a castrated male - gained international fame in April 2004 after he was found in an Otago cave.
He had evaded muster for six years and carried 27kg of fleece. An average merino fleece weighs about 4.5kg.
Shrek's fame helped raise funds for Cure Kids, which funds research into life-threatening childhood diseases. Cure Kids spokeswoman Josie Spillane told NZPA the intention was to celebrate his life, although there were still a few hurdles to cross before Shrek, who would have turned 17 this year, could be displayed in Te Papa.
"We are hoping the Shrek legacy will be able to continue for Cure Kids if he is on display in Te Papa, celebrating the incredible seven years this iconic Kiwi has achieved for New Zealand."
She agreed it was surreal to be talking about a sheep being displayed in the national museum.
"At the end of the day he is a sheep but he has become a symbol of such just feeling good about yourself. People get a warm fuzzy when they think about Shrek the sheep, and that can't be anything but positive."
Whether or not he was placed alongside Phar Lap would be a decision for Te Papa, she said but she hoped things could move as quickly as possible.
A Te Papa spokeswoman confirmed the museum was talking to Cure Kids about having Shrek put on display but could not comment further.
Otago Museum was also keen to provide a home for Shrek.
"As an Otago icon, we believe he will be very comfortable with us, and it will allow his 'locals' to reunite with him often," museum director of collections and research Clare Wilson said.
However, the museum would respect Shrek's owner's right to decide where Shrek would end up.
Bendigo Station's John Perriam, Shrek's owner and minder, told NZPA Shrek was "on ice, he's lying in state at the station here".
The plan - which followed Shrek's last will and testament, published in his book - was for his body and organs to be cremated while a taxidermist would get his carcass ready for display.
Shrek's fleece was not overly long when he was put down, and if he went on display he would be wearing his red coat, first used to keep him warm after he was shorn in 2004.
"I am trying to think what New Zealand would want. I've acted in the best interests of Shrek for the last seven years and I have seen how much pleasure he has given the elderly and the children throughout New Zealand and even internationally."
Shrek's story had become stronger since he was put down, Mr Perriam said.
"That's the bit that has blown us away, is how this has gone around the world in his passing, because its seven years ago that he hit the headlines.
"It's so deeply embedded the story now, it's something that will stay with New Zealanders for generations."
It was a remarkable story for a sheep who had simply escaped shearing for a few season. Mr Perriam credited newspaper photographer Stephen Jaquiery for taking the photograph that sparked the initial interest and since then Shrek had been "like riding a runaway racehorse".
He admitted it would be a bit strange not looking after Shrek every day.
"It seems to be a good story. We haven't had a lot of them lately."
- NZPA
Copyright ©2015, NZME. Publishing Limited