Paul Little: Wet blanket Kiwis make poor hosts
5:30 AM Sunday Jun 5, 2011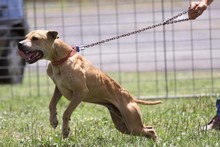 Pit bulls are a coward's pet, owned by people who enjoy the way they inspire fear in others. Photo / Peter Meecham
I may not care much for rugby but I do like a party, and I like to see other people enjoying themselves. I have been looking forward to sharing in the general excitement that surrounds a major international sporting event such as the Rugby World Cup.
With 100 days to go, I'm still looking.
This week RWC boss Martin Snedden was asked, concerning the public's enthusiasm for the event, "Have you got buy-in?"
His response was: "I think we have."
Surely he should know by now.
In 2000 I was living in Sydney during the lead-up to the Olympics. Everyone was involved. People could talk of nothing else. The city seemed to be moving in one direction, intent on putting on the best show it could.
On the eve of the opening ceremony, with all the pieces finally in place, Sydney seemed to hold its collective breath, waiting to see if they had pulled it off. The world knows they succeeded brilliantly and for two weeks everyone was very pleased with themselves indeed.
Could we be less enthusiastic about our major sporting event? The lead-up to what should be a giant party and a source of national pride has been all about Party Central, corporate boxes, plastic waka, ticket prices and accommodation rip-offs.
A key difference between us and the Australians is that they like to enjoy themselves. We're not good at communal fun. We always act a bit guilty about it - like there's some chore we need to get back to.
Where are the banners? Where is the giant countdown clock? There are billboards encouraging the All Blacks. Where are the billboards encouraging the public to be part of the event?
The solution is in our hands. We need to stop behaving like the hosts of a party we won't actually be attending.
We can decide to enjoy this or we can look forward to yet another non-event. Do we still have time to make the most of this opportunity? I think we do.
Dog maulings
In the wake of the dog maulings reported last weekend, animal advocates have been quick to claim that there are no bad dogs, only bad owners. It's like saying guns don't kill people, people kill people. But if there aren't any guns, they can't be used to kill. That's why we have our sensible gun-control policy.
Likewise, if dangerous breeds are banned the bad owners can't let them attack people.
Pit bulls and the like are a coward's pet - owned by people who enjoy the way their dogs inspire fear in others, and the sense of power they get from being able to control the animals.
The issue is so simple even a pit bull owner should be able to understand it.
Who will suffer if these dogs are not banned? The children who seem to be their preferred snack. Who will suffer if they are banned? People who like dangerous dogs.
It's not a difficult choice.
Farmer sympathy
If every time we saw a farmer on TV complaining about being hard done by we also saw his or her luxury vehicle, would they still get as much sympathy from other working New Zealanders?
Copyright ©2016, NZME. Publishing Limited