Plan meals ahead to cut waste, says restaurateur
5:30 AM Tuesday Apr 19, 2011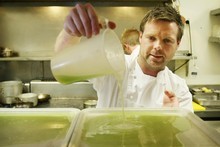 Ben Bayly says rising prices may force people to be more strategic with food purchases. Photo / Greg Bowker
For the staff of top Auckland restaurant The Grove, wasting food is painful on both a personal and professional level.
"It's money," said owner Michael Dearth. "But it's not really the money thing. I just hate throwing out food."
The Grove staff orders the food they need daily, and Mr Dearth said much the same approach could stop people wasting food at home.
"Think about how many years ago when people went to a butcher, and got their fruit from somewhere else ... I'm always shopping for stuff once every two or three days."
He acknowledges finding time is easier said than done, but said online food shopping offered by the big supermarkets made it possible to stock up several times a week.
The Grove's head chef, Ben Bayly, said much waste could be avoided by common sense: "A use-by date is just a guideline. People need to use their brains and look at the ingredient and taste it.
"We have lived through a prosperous time when food has been so cheap. And I think now people will respect food more."
The issue of food waste has been hotly debated on nzherald.co.nz since making yesterday's front page, with readers sharing their own tips on how to avoid it.
Kirstie Gillon-Wood said she had saved $200 a month since planning her family's meals a week in advance.
Website lovefoodhatewaste.com - funded by the British Government to tackle the food waste problem - identifies such planning as one of the best ways to cut back on waste. It recommends fridge and cupboards be regularly checked for use-by dates. If items are noted down as they are used, a more precise shopping list can be made.
The website also lists a range of ways the life of fruit and vegetables can be extended - one of the most common food groups to be binned.
Produce such as oranges and pears last up to two weeks longer if kept in the fridge, and fruit that ripens early should be removed.
Bruises or rot can be cut off before it is grated into a salad or used in a smoothie. Another tip is to wrap lettuce and other vegetables in kitchen paper before storing them in plastic bags in the fridge. The paper helps stop condensation softening the vegetables.
Waste can also be caused by people cooking more than necessary. Herald reader Georgina O'Connor said because she grew up cooking for five people she still did so, even though the meal was only for her and her partner.
"I think to myself, 'It's cool, we'll take the rest for lunch tomorrow'. Then I forget to take it half the time ... my grandmother would be horrified!"
LoveFoodHateWaste recommends buying fruit and vegetables loose so as to take home only the amount that will be eaten.
Packs of meat and fish can be cut into smaller pieces for the freezer.
And while one mug of rice will serve four adults, large amounts of carbohydrates are often cooked and binned because people have a poor handle on portion sizes.
CHEW IT OVER
Top tips to avoid being a waster:
* Plan meals one week in advance - only buy the food you need.
* Get to know your fridge and cupboards - check expiry dates.
* Tightly seal opened food and wrap in bags before storing in the fridge.
* Get to grips with portion sizes - don't cook too much.
* Buy fruit and vegetables loose, several times a week if possible.
Copyright ©2016, NZME. Publishing Limited