Should 'Best before' labels be removed from food items?
8:47 AM Monday Apr 18, 2011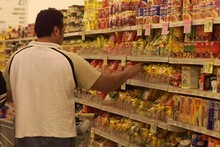 Photo / Martin Sykes
Confusion over "best before" labels is contributing to Kiwis needlessly dumping uneaten food worth $750 million a year.
It is a habit which has prompted plans to remove the labels in Britain.
There, they are blamed for contributing to £6 billion ($12.26 billion) of food waste annually.
A top Australian economist, whose research reveals the wasteful habits of New Zealand households, says consumers need more context on the health risks of particular foods.
Should 'Best before' labels be removed from food items? Here is the lastest selection of Your Views:

Copyright ©2016, NZME. Publishing Limited