Fashion Festival is aiming for some retail therapy
5:30 AM Monday Mar 21, 2011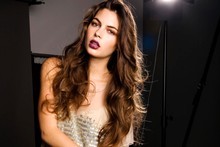 Trelise Cooper is one of the New Zealand designers on show at the festival. Photo / Babiche Martens
The fashion industry will come together this week in a bid to get consumers into shops and buying winter collections.
New Zealand's first fashion festival begins today and follows the L'Oreal Melbourne Fashion Festival that finished yesterday.
Retail Association chief executive John Alberton said the past few years had been tough for retail. Bringing a sense of excitement back for consumers was a step in the right direction.
"They [fashion] can showcase product in an exciting way. Over the past 10 years there has been a huge increase in the amount of stores selling clothes."
Alberton said it was great to see retailers coming together and using exciting methods to attract consumers to Auckland.
New Zealand Fashion Festival director Pieter Stewart said the main difference between this event and Fashion Week was that this was held for consumers and to stimulate retail growth, whereas Fashion Week was a trade show for domestic and international buyers, and media.
"It's all about attracting people to Auckland. There are festivals all over the world. The festival in Melbourne has been going for 15 years and generates a lot of retail growth. We had always planned to do this [in Auckland] but we're moving slowly.
"Retail always needs stimulating, and now we have these collections in the shops. This is totally for the consumer, and there are free events during the day."
Designer Michelle Yvette said she hoped to raise the profile of her centrally based shop.
"All the other consumers [at the show] get to see our stuff now, Fashion Week is more about the new season. We're showing the same collections but in different colours."
Yvette said a lot of the background work had been done for designers who only needed to bring garments, shoes and accessories. She said her business had continued to develop since moving from Herne Bay to the city.
Designers such as Trelise Cooper, Helen Cherry, Zambesi, Storm and Cybele will feature at the festival, which includes beauty seminars, runway shows, in-store promotions and a designer garage sale this weekend at Shed 6 in Wellesley St.
* For full details go to www.nzfashionfestival.com
Copyright ©2016, NZME. Publishing Limited