Recipe: Passionfruit and coconut crumble semifreddo
By Donna Hay
1:00 AM Thursday Mar 3, 2011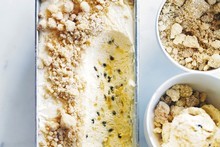 Passionfruit and coconut crumble semifreddo. Photo / Chris Court
Serves 6-8
1 cup plain flour
1/3 cup caster sugar
80g butter, melted
3 eggs
2 egg yolks, extra
1 tsp vanilla extract
1 cup caster sugar
2 cups pouring cream
1/3 cup passionfruit pulp (approx 6 passionfruit)
1 cup desiccated coconut
1 Preheat oven to 160C. Place the flour, sugar and butter in a bowl and mix until just combined. Place on a tray lined with non-stick baking paper and bake for 15 minutes or until golden. Allow to cool.
2 Place the eggs, extra yolks, vanilla and sugar in a heatproof bowl over a saucepan of simmering water and, using a hand-held electric mixer, beat for 6-8 minutes or until pale and thick. Remove from heat and beat for a further 6-8 minutes or until cooled.
3 Whisk the cream until soft peaks form. Gently fold the cream through the egg mixture until well combined. Fold through the passionfruit pulp and coconut and pour into a 2-litre capacity metal tin. Freeze for 6 hours or overnight. Top with crumble to serve.
Tips and tricks
Added extras. Once you have mastered the basic semifreddo, you can add your favourite store-bought treats such as crushed lollies, chocolates and cookies. Simply fold them through the semifreddo before freezing.
Cool down. It's a good idea to use a metal tin to freeze your semifreddo as it will set faster. If you would like to serve your semifreddo in a log, line the tin with overhanging plastic wrap. To serve, invert the tin, remove the plastic wrap and slice. There aren't many people who can resist a creamy bowl of icecream. And here's the scoop, semifreddo is the cheat's version of icecream, there's no churning needed to make these sweet delights.
* For more recipes by Donna Hay click here.
By Donna Hay
Copyright ©2016, NZME. Publishing Limited