Should Christchurch have retained its RWC games?
2:55 PM Wednesday Mar 2, 2011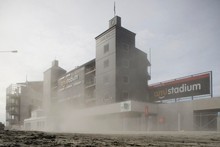 A dust bowl forms around AMI Stadium following a 6.3-magnitude earthquake that hit Christchurch causing major damage and fatalities. Photo / Dean Purcell
The field of AMI Stadium is like a "putt putt golf course", but the city should be given a chance to host Rugby World Cup games, mayor Bob Parker says.
However, Christchurch has now been stripped of its seven Rugby World Cup matches due to damage at the stadium.
Should Christchurch have retained the games it was due to host? Here is the latest selection of Your Views:
Copyright ©2015, NZME. Publishing Limited