Christchurch earthquake: Latest updates
9:47 PM Tuesday Mar 1, 2011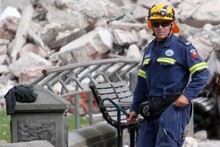 An emergency worker outside Christchurch Cathedral. Photo / Doug Sherring
9.47pm
Thanks for following our ongoing updates. They will continue early tomorrow morning. Goodnight.
8.52pm
Telecom says any national and international calls made from Christchurch residential landlines in the week after Tuesday's deadly earthquake will be free.
Telecom retail chief executive Alan Gourdie said being able to connect with friends and family during a crisis was of critical importance.
It will credit all residential landline customers in Christchurch and its neighbouring towns for any national and international calls made in the week following the quake until midnight on Monday, February 28.
"While we recognise the worst affected area has been in Christchurch CBD we have extended the relief credit to the local calling areas of Akaroa, Darfield, Rangiora, Amberley and Ashburton."
Telecom has also established Telecom Connect Hubs at the Christchurch welfare centres, offering free calling, free internet access, mobile charging facilities and distribution of analogue phones for people without power at home.
Meanwhile, 2degrees says its Christchurch network has now been restored.
7.45pm
Christchurch's Millennium Hotel has been cleared for entry after last week's earthquake, but the Copthorne Hotel on Durham St has been deemed unsafe for occupation, the company said today following a council inspection.
The Millennium is inside the central city cordons, and can not be entered until the cordons are lifted.
The council has not issued a demolition notice for the hotel on Durham St.
A third hotel, Copthorne Hotel Christchurch Central, has been issued with a restricted use notice, and more detailed structural inspection is needed.
"With much of the Christchurch CBD cordoned off and closed and given the number of buildings affected together with the pressure on resources generally, these detailed assessments are going to take some time to complete," said Millennium and Copthorne Hotels managing director BK Chiu.
7.19pm
Nineteen Christchurch schools want to re-open later this week or early next week, Education Minister Anne Tolley says.
Mrs Tolley said today many schools and early childhood education services sustained only minor damage in the earthquake and the ministry would work with them to decide when they could open.
"A number of options are being considered for the worst-affected schools as we plan to get all students back into some form of education as soon as circumstances allow," she said.
"This includes some students going off-site, schools splitting days on the same site, bringing in relocatable classrooms and providing relief teacher support where necessary."
All Christchurch schools were closed following the deadly earthquake last Tuesday.
7.17pm
Up to 5000 Christchurch residents have fled to Timaru in the past week since the devastating earthquake, police say.
Many of them were staying with friends and family, and a large number of children have been temporarily enrolled in local schools, Senior Sergeant Mark Offen of Timaru police.
A welfare centre has been opened in Timaru by Civil Defence and is providing food and clothing as required.
Most of the new arrivals were simply seeking refuge from the earthquake and its impact, however there were some not so innocent, he said.
"There is always a small number who will seek to take advantage and, as always, local residents should take normal crime prevention precautions."
Thousands of other people have also left the city for other areas, while many have sent their children to schools outside the city because theirs are closed until further notice.
The Ministry of Education said yesterday 240 Christchurch students had enrolled in schools outside the city.
That figure is expected to grow considerably.
7.07pm
Donors to the Christchurch Earthquake Appeal announced yesterday by Prime Minister John Key will be able to claim a tax credit or deduction on their donations, Revenue Minister Peter Dunne says.
Mr Dunne said today the fund would be treated as a tax-exempt entity to encourage donations.
The appeal is intended to have an international reach and complements those already started by the Red Cross and the Salvation Army.
Mr Dunne cautioned the public to check the bona fides of any cause or charity they donated to.
"There are a few low-lifes who take disasters such as the Christchurch earthquake as an opportunity to make a fast and dishonest buck," he said.
7.02pm
Employers are rushing to take up government assistance that helps them pay their workers in the aftermath of the Christchurch earthquake, Social Development Minister Paula Bennett says.
The assistance, announced yesterday, pays out $500 a week for each full time employee.
It will last for six weeks and the Government expects it will cost up to $120 million.
Ms Bennett said today that since the announcement 1718 employers with 8271 staff had applied for the subsidy.
In addition, 1516 sole traders had applied.
"Our staff are working hard to get payments through as soon as possible - the first will be in banks by tomorrow," Ms Bennett said.
Also announced yesterday was job loss cover which pays out $400 a week to people who have lost their jobs because of the earthquake.
Ms Bennett said so far 788 individuals had applied for it.
Ms Bennett said emergency civil defence payments were still being made for essential needs like food, clothing, petrol and accommodation.
"To date we have paid more than $4 million in emergency payments to people affected by the earthquake and in real need," she said.
Prime Minister John Key announced the assistance for employers yesterday and said it was likely to be extended, possibly in a different form, after six weeks.
6.54pm
Many Christchurch students seeking to enrol at institutions in other cities are being turned away, the Union of Students' Associations (NZUSA) says.
NZUSA co-president Max Hardy said today hundreds were trying to transfer to alternative universities and polytechs because their own institutions were closed, their flats destroyed or because they were traumatised and wanted to go home.
"Sadly, many of these students are currently being turned away by institutions in other cities," he said.
"It is understandable that there is a focus on ensuring that tertiary institutions in Christchurch are sustainable, but we also need to ensure that students are not being unfairly disadvantaged."
Universities New Zealand said it was confident Canterbury universities would be able to provide a full-year academic programme, but encourage concerned students to contact their university after last week's devastating earthquake.
Two days into the academic year students' studies were bought to a halt at the University of Canterbury, Lincoln University and the University of Otago Christchurch campus.
"Students and their families can be assured that the universities are working together with government agencies to explore all possible avenues to make sure that students will have continuity of study during this difficult time," Universities NZ chairman Derek McCormack said.
Canterbury students were encouraged to keep in touch with their universities for up-to-date news and developments.
6.52pm
Eight more British disaster victim identification (DVI) experts will arrive in Christchurch tomorrow to help with the hard work of identifying victims of the devastating earthquake in the city last week.
They will join two other British DVI experts who arrived in the city yesterday, and will be led by Commander Nick Bracken from the Metropolitan Police.
The team is made up of an odontologist, a fingerprint specialist, a photographer, a pathologist, advanced DVI experts and DVI collators.
Mr Bracken is currently commander of East London police and during his career has led a number of high-profile investigations following train crashes, fires, air crashes and boat capsizing. His expertise in the field of identification was recognised in the 2006 New Years Honours List when he was awarded the OBE for services to policing.
British High Commissioner to New Zealand Vicki Treadell has been in Christchurch assisting British nationals and said the UK was only too willing to help.
"With New Zealand and Britain being such close friends, this is an opportunity to support and assist each other at this time of crisis,'' Ms Treadell said.
Meanwhile the Japanese government has decided to dispatch a 30-strong Japan Disaster Relief (JDR) rescue team to Christchurch to relieve the 66 JDR members sent to Christchurch in the immediate aftermath of the quake, where they have been assisting New Zealand authorities around the clock with search and rescue activities.
Five Japanese police officers and one psychiatrist are in Christchurch as specialist members of the JDR. They will remain in Christchurch and carry on with their current roles.
6.50pm
An Auckland T-shirt company trying to raise money for earthquake-affected Christchurch charities has been ordered to stop using the phrase "Kia Kaha Christchurch" because it breaches a trademark held by another clothing label.
Wellington-based label Kia Kaha issued the cease and desist notice to Mr Vintage today.
Mr Vintage notified potential customers of the situation on its Facebook page, which prompted a storm of condemnation from followers.
Mr Vintage founder Robert Ewan told NZPA it was a disappointing situation but he did not want to make it a big issue.
"I think it's more about Christchurch and helping them, rather than getting into a battle with Kia Kaha."
Mr Vintage had already raised $11,000 from two other T-shirt designs and Mr Vintage would produce another T-shirt, not using the Kia Kaha phrase, for Christchurch, he said.
Kia Kaha is also producing Christchurch T-shirts, with proceeds going to the Red Cross Earthquake Appeal.
Managing director Dan Love could not be contacted for comment.
Kia Kaha, which was established in 1994, gained international attention when it teamed up with golfer Michael Campbell, who went on to win the 2005 US Open Golf Tournament, wearing his design on the company's gear.
6.41pm
People who lost their driver licences in the Christchurch earthquake can get free replacements from the NZ Transport Agency (NZTA)
NZTA southern regional director Jim Harland said the agency could also provide other assistance for Christchurch residents, including:
* Providing free extensions for those who are unable to meet the requirements for renewing a licence (such as not being able to provide acceptable evidence of identity or being unable to provide eyesight or medical certificates);
* Issuing immediate three month exemptions for those who need to operate outside of their normal licence conditions -- in particular for restricted licence holders who need to carry passengers or who need to drive at night.
* Waiving fees for rescheduling or cancelling theory or practical tests booked prior to February 22.
He said the NZTA was also working with the trucking industry and others to process exemptions where needed from normal restrictions on commercial driving hours in order to help with the recovery effort in the region.
6.15pm
Through all the past week's devastation came some good news for one Christchurch local who won $19,554 in Lotto's second division.
The winner, who wants to stay anonymous, said he wished it was more so he could donate more to Christchurch.
He planned to take his family on an overseas holiday so they could have a break before returning to help rebuild the city.
His house was not too badly affected, but just down the road houses were badly affected, he said.
Last week social network websites called for the NZ Lotteries Commission to donate the $15 million Lotto Powerball prize to the Christchurch earthquake appeal.
However, NZ Lotteries said this was not legally possible. It later announced half of this week's sales would go toward the earthquake appeal.
The Lotto Powerball was not won on Saturday and has jack-potted to $16 million.
6.09pm
The death toll from Christchurch's deadly earthquake has reached 155, Superintendent Dave Cliff said tonight.
This was an increase of one from the death toll of 154 earlier in the day.
The number of deaths is expected to continue to rise.
5.20pm
Lines company Orion hopes to have electricity restored to 86 percent of Christchurch by the end of the day but 27,000 customers still remain without power following Tuesday's devastating quake.
Orion remained still aimed to have power restored to 95 percent of Christchurch residents by Sunday. This figure did not include parts of the CBD, which remained off limits, and customers who could not be connected because of property damage.
However, the company warned the number of residents being reconnected each day would likely decrease as it began to work on areas with extensive damage to underground cable networks.
Orion had begun property-by-property inspections and reconnections in Lyttelton and last night completed a 66kV overhead line to the Brighton substation.
Work had begun on connecting up a large 41-tonne transformer between the line and the substation and Orion hoped to start the substation on Thursday and begin the "slow process" of connecting customers in Dallington and Brighton.
To relieve pressure on what was a "fragile network", Christchurch residents were asked to conserve power.
5.18pm
Seawater at Christchurch beaches is contaminated with sewage and the public is urged to stay away after last week's earthquake destroyed storm water pipes, Christchurch City Council warned today.
Work to repair storm water pipes was ongoing and the public would be advised by the city council when seawater was safe to swim in.
Overflows into the Avon and Heathcote rivers also meant the public should stay away from rivers and the estuary, the council said.
4.31pm
National architectural practice Warren and Mahoney is starting to look at how quake-ravaged Christchurch buildings can rise out of the rubble
Warren and Mahoney have put together a group of urban planning, design and property experts to begin considering the best way forward for Christchurch buildings, director Peter Marshall said.
The group, which decided to form of their own accord, will start to develop a set of key design principles and long term development scenarios which they can then take to Christchurch City Council.
It is made up of Warren and Mahoney, environmental planners and urban designers Boffa Miskell, structural and civil engineers Holmes Consulting Group, commercial leasing and sales service Colliers International and tenant advisory services Wareham Cameron.
The group planned to meet next week to brainstorm ideas.
"Civic leaders and government officials are rightly focussed on the immediate rescue and recovery mission," Boffa Miskell managing director Don Miskell said.
"Forming the group and turning our minds to seeking integrated solutions by combining visionary thinking with a depth and breadth of development experience is one way that the interdisciplinary members thought we could contribute to the rebuilding of Christchurch."
At this stage, in its very preliminary phase, the group had let Christchurch City Council know about their plans and assumed the council would see merits in the group, Mr Marshall said.
4.18pm
Christchurch Cathedral has a history of earthquake damage and the spire destroyed in last Tuesday's 6.3-magnitude shake was not the original when the cathedral opened in 1881.
The Anglican church said the 27m spire, which sat on the 36m high stone tower, had been damaged by three earthquakes before the 7.1 magnitude earthquake in September last year. One was in 1881, the year it opened, another was in 1888 and the third in 1901.
After the 1901 shake, the stone spire was replaced by a wooden frame covered in copper sheeting. The copper sheeting was the green part of the spire.
The cross on top of the spire was 63m above ground level.
On the north wall under the tower a marble tablet was inscribed: "This tower was erected by Robert Heaton Rhodes, in memory of his brother, George Rhodes."
The spire was erected to the memory of their father by the children of George Rhodes.
The tower also had only 10 bells, weighing about seven tonnes, when it opened in 1881 but a larger peal of 13 new and lighter bells was installed in 1978
Royalty have visited the tower on which the spire was built.
In June 1901 the Duke of Cornwall and his wife, later to become King George V and Queen Mary, attended a morning service before returning later in the day to climb the tower and see the view.
3.27pm
Universities New Zealand is confident Canterbury universities will provide a full-year academic programme, but encourage concerned students to contact their university after last week's devastating earthquake.
Two days into the academic year students' studies were bought to a halt at the University of Canterbury, Lincoln University and the University of Otago Christchurch campus.
"Students and their families can be assured that the universities are working together with government agencies to explore all possible avenues to make sure that students will have continuity of study during this difficult time," Universities NZ chairman Derek McCormack said.
Universities NZ encouraged Canterbury students to keep in touch with their universities for up-to-date news and developments.
Students should express any concerns they had with continuing their studies with their university, Mr McCormack said.
3.15pm
Australia's Department of Foreign Affairs and Trade (DFAT)has confirmed that an elderly Australian woman was among those who died in the Christchurch earthquake - the second confirmed Australian death.
DFAT told AAP that the woman had lived in Christchurch with family for a number of years.
Last Wednesday, Prime Minister Julia Gillard said a New Zealand-born long-term Australian resident died in the collapsed Pyne Gould Guinness building.

2.36pm
Civil Defence Minister John Carter has extended the state of national emergency for a further seven days.
The state of national emergency in New Zealand was declared last Wednesday and is expected to continue for several more weeks, Mr Carter says.
"This declaration ensures coordination and cooperation between central and local resources, and international assistance. Due to the scale of this disaster, the civil defence response is beyond the resources of the local authority," he says.
2.10pm
Finance Minister Bill English says he is not ruling out changes to Working for Families or the student loans scheme as the Government considers how to foot the bill for Christchurch's earthquake recovery.
However, he says the Government remains committed to existing infrastructure projects such as Ultrafast Broadband although there may be some "flexibility" as to their timing.
2.08pm
Vodafone says its cellphone network in Christchurch is still functioning well overall but some areas have reduced 2G coverage.
The suburbs affected are: Christchurch's CBD, Richmond East/Avonside, Avondale East/Aranui and Linwood North/Linwood East/Woolston West.
2.03pm
Labour Leader Phil Goff says the Christchurch earthquake should not be used "as an excuse to sell off our valuable assets".
He says cutting financial assistance to families and students in other parts of New Zealand would slow the economy.
"All New Zealanders are prepared to stand together and shoulder the financial burden of the recovery."
1.50pm
US Embassy staff have spent the past week trying to locate around 2,000 Americans believed to be in the city at the time of the disaster. US Ambassador David Huebner says the number of missing US citizens now stands at two, that's down from 36 yesterday.

1.38pm
Hundreds of people gathered at Christchurch International Airport to observe the two minute silence at 12.51pm - marking exactly a week since last Tuesday's tragic earthquake in the city.
Some, including many foreign nationals, bowed their heads, others comforted colleagues, some just stared blankly at the floor.

1.34pm
Former rugby league internationals from both sides of the Tasman will take the field in Auckland next week to raise funds for victims of the Christchurch earthquake.

1.23pm
TSB Bank have opened an account for anyone who wishes to make a donation to help with the Christchurch Earthquake.
The account number is: 15-3942-0900372-00

1.09pm
Orion have restored electricity to 85 percent of customers in Christchurch, expected to reach 86 percent tonight. 50 percent of customers in the CDB now have power.

1pm
Christchurch is being urged to look to Napier's history when considering the future of their devastated city.
Napier's CBD had to be entirely rebuilt after the 1931 earthquake and is now known around the world for its Art Deco style in which it was built.
Historian David Lowe says Napier made something positive out of the destruction. He says it was either walk away from the whole thing, or roll your sleeves up and look at making the city as resistant as possible from the same thing happening again.

12.53pm
The nation just observed two minutes silence to commemorate those who lost their lives in Tuesday's earthquake.
Sombre scenes across the nation as people stood in silence in Christchurch, outside Parliament in Wellington, at Aotea Square in Auckland and other spots throughout the country.
Search and rescue workers in quake-torn Christchurch downed their tools and joined the rest of New Zealand in standing in silence.
Prime Minister John Key, who had called for the national period of silence, marked it at the Christchurch Arts Centre.

12.44pm
Civil Defence has warned people in Christchurch not to try to remove asbestos from damaged buildings.
If you know of asbestos in a public place, please contact the City Council on (03) 941 8999 or report a problem online and give the specific location so further information can be obtained.

12.41pm
A memorial service outside Parliament has begun in Wellington ahead of the two minutes silence at 12.51pm.

12.31pm
Christchurch has been hit by more than 200 aftershocks in the week since last Tuesday's 6.3 magnitude earthquake.
In the last seven days the region has been jolted by 204 aftershocks, with the latest measuring 4.3 in magnitude and shaking the traumatised residents at 9.10am.
The tremors have ranged in strength from 2.7, felt on February 23 and yesterday, up to a 5.7 aftershock that struck just 13 minutes after the initial quake a week ago.

12.26pm
A total fire ban has been declared by the National Rural Fire Officer across Canterbury for the next 48 hours taking effect from midday today, due to high winds forecast. No fire permits will be issued.

12.09pm
Radio Sport is running a number of auctions including items donated by sportspeople with all proceeds going to the Red Cross Christchurch earthquake appeal.
Items include a World Cup shirt signed by the 2010 All Whites, a racing helmet signed by Scott Dixon and a signed and framed Warriors shirt from the 2002 Grand Final.
Check out the auction items on the Radio Sport website.

12.00pm
The majority of people evacuated from the hills above Sumner have returned to their homes, Newstalk ZB reports.
The occupants of 200 properties were asked to leave yesterday and all but 20 have gone back.

11.51am
All water in Christchurch will be chlorinated today in an effort to combat contamination from broken sewers and waste water pipes, Civil Defence reports.
The treatment is likely to continue for months while the city's infrastructure is restored, its statement said.
"Chlorine is a highly efficient disinfectant, and adding to public water supplies helps to kill disease-causing bacteria that may exist in the water or in transport pipes."
The chlorination is expected to be an issue for people receiving dialysis treatment. A free-phone dialysis helpline has been set up at 0800 881919.

11.46am
Red Cross NZ have announced that $10.3m has been raised so for Christchurch.

11.34am
Young people trying to cope in the aftermath of the Christchurch earthquake are being urged to make use of Youthline's national network of phone and text counsellors.
The Youthline Christchurch centre which is situated on Hereford Street has been badly damaged in the quake, but all calls and texts are being routed through to other centres around the country.
Youthline national spokesperson Stephen Bell says it's times like these that youth need all the support they can get.
• Youth help 0800 37 66 33
• Free txt: 234
• Email and MSN: talk@youthline.co.nz

11.23am
People around the world have been sending their messages of support for Christchurch after the earthquake. Read them here and you can leave your own message.

11.15am
There will be a controlled felling shortly at the top of the PGC building in central Christchurch, say police.
This move is being taken due to safety concerns around the stability of the structure.

11.03am
Latest road and bridge closures in Christchurch as at 9am today.

10.54am
Fire Service spokesman Russell Wood said at the press conference that recovery teams working at the Pyne Gould Corporation building are expected to find more bodies in the coming days.
He said the Urban Search and Rescue (USAR) teams were only working at the devastated Canterbury TV building during daylight hours.
A key wall in the Christchurch Cathedral, where up to 22 bodies still lie, would be shored up today to allow better access to USAR, he said.

10.48am
District Commander Superintendent Dave Cliff told media the identification process is "absolutely robust" and is the same as used overseas.
Another three more names are likely to be released today.
Mr Cliff said the missing number of "around 240 is solidifying".

10.46am
The family of missing Canterbury Television (CTV) personality Donna Manning are "holding onto hope" that she will be returned to them.
In a statement released today, the family say their hearts go out to those, like them, waiting for news of loved ones as a week since the killer earthquake in Christchurch is to be marked with two minutes silence.
Ms Manning was one of dozens in the CTV building destroyed by the quake, and is now feared dead.
Her brother Maurice Gardiner said: "We are still waiting for news of......Donna, and holding onto hope that she will be returned to us. While we wait, we pray for strength, especially for our parents and Donna's children, Elizabeth and Kent Manning."
"I want to thank everyone who has shown such love and support - there has been so much from near and far away."
Donations to a trust for Ms Manning's children can be made at Kiwibank with the following details:
The Elizabeth and Kent Manning Trust
38 9011 0430699 000

10.44am
District Commander Superintendent Dave Cliff said three bodies were recovered from the PGC building overnight, bring the total deceased to 154. He said that number is still expected to rise.
Mr Cliff said there were no earthquake-related crime reported overnight.

10.41am
Civil Defence acting national coordinator Steve Brazier said 66 percent of the city have water, but it will be some time before 100 percent of homes have their water returned to them. He said there were 5000 people from 120 crews working on it.
Mr Brazier said it was hoped one chemical toilet could be given to each toiletless house.
Plans are in place to chlorinate the water which means it won't have to be boiled.

10.36am
Time capsules from the first European settlers of Christchurch have been discovered under a central city statue toppled by last week's devastating earthquake.
Mayor Bob Parker said rescue teams discovered the capsules while working near the destroyed statue of pioneer John Robert Godley.
They will shed new light on the reasons for settling the Canterbury area and creating the city, he said.
He promised to rebuild the statue.

10.31am
Mayor Bob Parker is holding his daily press conference to update the media. He says there is no central location for today's two minutes' silence but has asked everyone in Christchurch to stop and honour the occasion wherever they are.

10.27am
GNS Science seismologist John Ristau said this morning's large and shallow aftershock could have pushed earthquake damaged buildings to breaking point.
The Geonet website has already received reports of damage and slight damage in its wake.
"If you have something that's ready to topple then all it takes is a little push.
"Depth plays a huge factor in how strongly an earthquake is going to be felt. Just a few kilometres of depth can make a huge difference."
Mr Ristau said the number of large aftershocks in Christchurch was trending downward. But he warned a magnitude 5 or more quake was still possible in the next few days.
"The aftershock sequence is dying off fairly quickly. Hopefully things will start to quiet down in the next couple of days. But that magnitude 5 is still possible."

10.21am
A call out has been made to Wellingtonians for spare tools that can be used in Christchurch, Newstalk ZB reports.
Interwaste is transporting some much needed supplies from the capital to help the student army operating out of Canterbury University.
People can drop off shovels, steel or industrial strength wheelbarrows, sunscreen and hand sanitiser at 57-59 Port Road Seaview in Petone.

10.12am
Here's a list of public gatherings around the country for the two minutes' silence to take place at 12.51pm today.

10.02am
Patients with appointments at Christchurch and Christchurch Women's Hospital are being asked to park at Hillmorton Hospital and catch a free shuttle.

9.58am
Work has begun to stabilise the Hotel Grand Chancellor so that Urban Search and Rescue teams can check buildings within a 90 metre cordon of the hotel.
More detailed engineering advice indicates that only the block immediately in front of the HGC building will have to wait until the hotel is stabilised to be checked, Civil Defence said.

9.47am
St John staff are door-knocking in Christchurch to check on the needs of the vulnerable and elderly.
St John is also continuing to roster more than 450 staff across each of the welfare centres. 16 St John staff are working to provide medical support to the Urban Search and Rescue teams.

9.39am
Christchurch residents should stay away from rivers, the estuary and the sea, because of sewage overflows into the Avon and Heathcote rivers the Civil Defence says. Residents have also been advised to stay away from beaches in the North Beach/Waimairi/Parklands area.
9.29am
Janine Morrell-Gunn and Jason Gunn have set up a website calling for donations that to to families in need in the Christchurch area.
"It's like having a gaurdian angel," Janine Morrell-Gunn told TV1's Breakfast programme.
www.adoptachristchurchfamily.com
9.12am
GNS Science says a magnitude 4.3 aftershock struck 10km east of Lyttelton at 9.10am today. It says it was at a depth of 2km.
9.12am
Another large aftershock has been felt in Christchurch. GNS Science has not yet posted information on its magnitude or location.
9.09am
A range of assistance is available to Christchurch residents who may have evacuated to Northland, the Northland Civil Defence Emergency Management group says.
It says the Northland Welfare Advisory Group can provide emergency accommodation, food and financial support.
The Ministry of Social Development through its Work and Income Service centres is the local contact point.
People who may need assistance are asked to contact Work and Income (0800) 559 009 for the location of the nearest office or to visit its website: www.workandincome.govt.nz
9.01am
Police say most of the Clifton Hill residents who were evacuated yesterday were allowed home last night about 6pm.
Senior Sergeant Murray Hurst says engineers have given the hillside the all clear.
About 10 residents whose homes had been declared uninhabitable have not been able to return, he says.
8.51am
780 portaloos have been distributed around Christchurch.
http://eqviewer.co.nz/index-portaloos.html
8.51am
All Whites soccer captain Ryan Nelsen is winging his way home to Christchurch to do his part to aid the recovery from the devastating earthquake.
8.32am
Police Superintendent Russell Gibson tells Radio New Zealand 12 more houses in the Christchurch suburb of Redcliffs were evacuated overnight after cracks appeared in cliffs.
"And in the Bowenvale area in Cashmere we evacuated 65 homes."
8.19am
Fisher & Paykel have set up community laundries in Christchurch offering free washing and drying facilities. http://www.fisherpaykel.co.nz/communitylaundry/
8.07am
Council of Trade Unions secretary Peter Conway says the Government's initial earthquake assistance package does not go far enough as it doesn't seem to cover people who can't work because of the personal impact of the earthquake.
He says children are off school, people's homes are in a terrible state in some circumstances and there are transport problems preventing people from getting to work.
8.05am
There have been three aftershocks in the Christchurch area since midnight, GNS Science reports.
The latest was a 3.7 magnitude quake, centred 10km north-east of Lyttelton at a depth of 4km.
7.55am
The host of the Amazing Race and Cantabrian, Phil Keoghan is urging tourists to keep coming New Zealand despite the earthquake.
He tells TVNZ's Breakfast "the doors are still open" to tourism and Christchurch Airport is still open.
"If you've got trips planned to New Zealand, don't cancel."
He says the best way the international community can help Christchurch is to keep coming to New Zealand as tourism is one of the country's largest economic earners.
"We cannot afford a double hit."
7.47am
Police are warning people to continue to be alert to those trying to take advantage of the tragedy.
The latest reports say people are impersonating EQC officials, telephoning residents and advising them they are eligible for an emergency grant - as long as they deposit $200 into a bank account.
Hang up on them.
7.42am
Police have made 10 arrests overnight in Christchurch, but are pleased none is for looting. No one tried to breach the cordon.
But police are concerned about reports of people entering buildings declared unsafe, and bearing a red sticker.
Overnight commander Superintendent Russell Gibson says the buildings have a red sticker because they're dangerous and could collapse at any time.
He understands people are frustrated at not being able to retrieve their cars, or check on their businesses in the CBD, but the area's still fraught with danger.
Superintendent Gibson says the focus has to remain on the rescue operation for now.
7.38am
Former Christchurch City mayoral candidate and MP of Wigram Jim Anderton believes wood should be used in the rebuild of the city - saying it is a safe, cheap and "iconic" material.
Mr Anderton told Radio New Zealand a Christchurch-centred committee should be established - chaired by the mayor - to oversee the rebuild.
"Christchurch needs to be in charge of its own destiny."
7.29am
Labour Leader Phil Goff says he will be at Civil Defence headquarters in Christchurch for today's two-minute silence in honour of the victims of last week's earthquake.
Mr Goff says the Government's assistance package announced yesterday is a good first step.
"That will tide us over for the first five to six weeks," he says, but then more significant steps will need to be taken.
Mr Goff says there's "no room for politicking" in the aftermath of the earthquake.
6.59am
In its morning update, Civil Defence says 240 people still remain missing, but that the number will include many or all of the 154 confirmed fatalities.
It says disaster rescue teams from Thailand and Israel have now joined the rescue operation and a four-strong victim identification team has arrived from Queensland.
Click here for the full update.
6.56am
Civil Defence confirms the death toll from last week's earthquake has reached 154.
6.42am
Christchurch Mayor Bob Parker says people should not head into the central city to observe the two minute silence at 12.51pm today.
Mayor Parker says roads into the city are still in an appalling state.
He says the silence is about everyone "standing together".
6.13am
TVNZ reports that six more bodies were recovered overnight, taking the death toll to 154.
6.12am
New Zealanders will observe a two-minute silence at 12.51pm today to mark exactly a week since the magnitude 6.3 earthquake struck Christchurch.
6.08am
GNS Science reports there has been one aftershock in the Christchurch area since midnight.
The magnitude 3.1 earthquake struck at 4.43am at a depth of 2km, 10km west of Lyttelton.
6.08am
The New South Wales Government has pledged A$1 million ($1.3 million) for the victims of the Christchurch earthquake.
Premier Kristina Keneally says $1 million will be donated to Christchurch Earthquake Appeal.
6.00am
The Royal New Zealand Pipe Bands Association has cancelled the 2011 New Zealand and South Pacific Pipe Band Championships due to Christchurch's devastating earthquake.
Instead, pipe bands around the country plan to get out in their communities raising money for the earthquake relief fund. The competition was to be held in Timaru in early March.
- NZHERALD STAFF, NZPA, NEWSTALK ZB, AGENCIES
Copyright ©2016, NZME. Publishing Limited