Five of the best: North Island mountain bike parks
5:30 AM Sunday Feb 27, 2011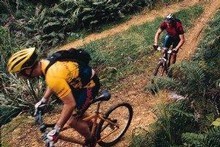 The Hunua Ranges has a variety of mountain-biking trails. Photo / Supplied
1. Woodhill
New Zealand's most popular commercial mountain bike park offers forgiving sandy trails - and some spectacular obstacles to navigate - to riders of all abilities in its pine forest setting. It has more than 100km of trails, with more in the works all the time. So even when the carpark is heaving, it's rarely crowded out on the tracks. Signposted off SH16 between Kumeu and Helensville, Woodhill has rental bikes, a pro shop and a coffee stand on the weekends. See bikepark.co.nz
2. Riverhead Forest
Its sometimes gnarly - and, in winter, swampy - trails offer more challenges than nearby Woodhill and navigating the forest is all part of the fun. Even a sedate plod on its gravel roads can make for a pleasant knobbly-tyred outing.
3. Hunua Ranges
The Hunua Regional Park abounds in a variety of tracks through the bush bordering the Mangatawhiri reservoir, from the family-friendly to twisty backwoods challenges. A good place to practise your creek-crossing techniques too.
4. Whakarewarewa, Rotorua
The best trail network in the country offers seemingly endless kms of varied single track (from smooth and swooping to downright vertical and craggy), all joined by forest roads, which offer safe semi-wilderness riding for beginners. And it's only a few kms from the bright lights of Rotovegas.
5. Taupo
You can take your pick in Taupo from the undulating all-abilities wonders of the Wairakei MTB Tracks (aka the Craters of the Moon), the easy Waikato River Trails, which stretch from the town north to Huka Falls and beyond, or the beautiful, if long-climbing, W2K trail, which rounds the peninsula between Whakaipo Bay and Kinloch on the lake's northwest.
Copyright ©2016, NZME. Publishing Limited