Christchurch rebuild can be afforded - Key
7:17 PM Sunday Feb 27, 2011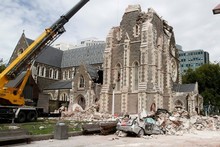 The Christchurch Cathedral. Photo / Mark Mitchell
Prime Minister John Key says there will be about $14 billion available to rebuild Christchurch but the huge project won't start until aftershocks have ended and quake-stricken area has settled down.
It was difficult to estimate how many buildings would be taken out of the central business district but said it could up to 200.
"By the time we've removed those buildings and then done the geo-technical work to assess what's actually required for the land before it can be rebuilt on, it's going to take quite some time."
Speaking on the day he launched the Christchurch Earthquake Appeal, a global fund raiser for the recovery effort, Mr Key said the Government could afford to rebuild.
"I believe we can afford it. There's no question this is going to have an impact on government funds, but if we take $4b out of the EQC fund and $5b worth of reinsurance and add it to the private insurers' liability which is roughly about $5b, we'll have a provision of about $14b," he said.
"Ultimately, the earthquake is likely to cost more than that...it's far too early to tell."
Mr Key said there would be a big impact on the Government's May budget.
"Firstly, a reduction in tax revenue because there is less economic activity in Christchurch. And secondly, we will have provision for both the economic packages and also the substantial infrastructure rebuild in Christchurch."
Mr Key said the Earthquake Commission (EQC) was capable of doing the job ahead of it.
"If you roll the clock back prior to the first earthquake on September 4, EQC had 19 employees in Christchurch. Prior to the earthquake last Tuesday, there were 1300, which gives a sense of how much they have geared up over the six months.
"Whether that is enough to cope with what is effectively two very large earthquakes is something we'll need to work on," he said.
Before Tuesday's earthquake, the EQC had $6.4b available," Mr Key said.
"It's very likely that EQC levies will rise for New Zealanders for a number of reasons.
"We want to build the fund up faster than we would normally. If we don't increase the levy it will take until 2025 to get the fund back to about $6b."
Mr Key said there had been some discussion about whether there would be a special earthquake levy.
"We haven't completed our final analysis but we're asking Treasury's advice, and their preference was not to have the special levy," he said.
"But it's guaranteed that EQC levies in their current form will rise.
"No decision has been made yet, but I think you could expect it to double or triple."
- NZPA
Copyright ©2016, NZME. Publishing Limited